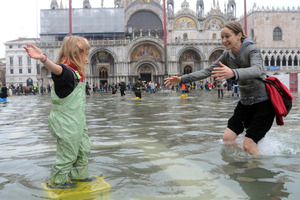 Floodwaters drenched Venice's St. Mark's Square as the City of Bridges was put on "acqua alta" (high water) alert and tourists donned their waterproofs and wellies.
The mayor ordered elevated wooden platforms to be placed on main passageways in the Renaissance city as the waters reached 110 centimetres by late afternoon, and were set to rise to 140 centimetres overnight.
The flooding was caused by wind and rain combined with the lagoon city's periodic tidal phenomenon, a monitoring and forecasting centre said.
Venice suffered its worst "acqua alta" on November 4, 1966, when it was submerged by 1.94 metres of water amid catastrophic flooding throughout Italy.
The city has for years been wrestling with the problems posed by the threat of rising sea levels and has launched an ambitious plan to build mobile barriers at the mouth of its lagoon and protect the city.
About 3,000 people are involved in the "Moses" project, which costs 5.4 billion euros ($7.9 billion), and is scheduled for completion in 2014.
Bad weather struck across Italy on Wednesday, whipping up the sea and causing problems for people trying to travel from the mainland to the islands.
Elementary and primary schools were closed as a precautionary measure in some areas of Sicily, while in Tuscany around 50 people were evacuated from an area which was hit hard by flooding in 2011.
- AFP