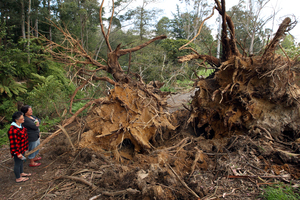 High winds caused power outages around Rotorua as trees and power lines were brought down by rough weather at the weekend.
Rotorua weatherman Brian Holden said northwesterly winds peaked at about 70km/h about 9pm on Saturday.
"It was really going crazy," Mr Holden said.
Falling trees brought down power lines and caused power cuts in rural areas.
Trees had come down around Rotorua, including in the Whakarewarewa Forest and the dog park, along Tarawera Rd and Sala St.
A Rotorua woman who was walking along Pukehangi Rd yesterday morning also noticed a few mailboxes strewn across the ground, while another woman had to jump over debris when running in the forest.
Mr Holden said the weekend's strong winds were of a similar strength to what was recorded on October 6.
He said 20mm of rain had been recorded over the weekend too and showers were expected to continue this week.
Unison customer relations manager Danny Gough said rural areas of Rotorua had suffered power outages over the weekend, including Reporoa and Atiamuri, because of the high winds.
Those without power lived in pockets of exposed rural areas where trees, debris and vegetation had hit power lines. Power lines had also come down in some other areas.
Mr Gough said the heavy winds and wet weather had also impacted on efforts to reconnect power.
He was unable to confirm the numbers of customers affected last night but said it was only a small number. However, because of the rough weather, Mr Gough said those who were affected did lose power for long periods.
For more articles from this region, go to Rotorua Daily Post