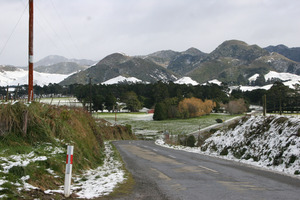 Heavy rain is on the way for much of the country today, while the Canterbury high country is set to get a big dump of snow.
MetService says a deep low just west of the South Island is expected to drift eastwards over the island today, bringing strong to gale northerlies and periods of heavy rain to northern Westland and Buller, and cold southeasterly rain to Canterbury.
The heaviest falls are expected in the ranges of Westland and Buller north of Ross, where 200mm of rain is forecast through to early Wednesday morning, while coastal areas may receive 100mm of rain during this time.
The rain about the Canterbury high country may fall as snow this morning, with some heavy snowfalls forecast later in the day. From 9am to 1pm, 5-10cm is expected above 700m, with lesser amounts down to 400m. Further snow is likely above 700m through to tonight, but snow falls will ease in intensity and snow levels should gradually lift.
MetService says the snow has the potential to disrupt transport in the area and cause significant stress to livestock, especially newborn lambs.
On Arthur's Pass snow is affecting the road above 700m, with 5-10cm possibly accumulating through to early afternoon. NZTA has vehicle restrictions in place, with the road closed to towing vehicles and chains essential.
Porters Pass is forecast to receive about 5-10cm of snowfall above 700m through to early this afternoon, while about 1-2cm is expected on higher parts of Lindis Pass this morning.
Meanwhile a front associated to the low is likely to bring heavy rain to the Bay of Plenty later today and tomorrow morning, with 90mm of rain expected in the eastern ranges.

Heavy showers are also expected today in the Richmond and Bryant Ranges and Mt Taranaki, and tomorrow about the Tararua Ranges.
As the front passes over the North Island today, MetService says it will be preceded by a period of strong northerlies, with severe gale gusts possible about southern Taranaki, inland Wanganui and Taihape through to this afternoon.
MetService chief forecaster Peter Kreft said although it will be wet in many parts of the South Island and over the southwest of the North Island for the next few days, it is not going to be cold everywhere.
"The low is drawing warm air across northern and central parts of the country, where daytime highs should reach at least the high teens over the next few days," Mr Kreft said.
Apart from today, about half the country - the north of the North Island and in eastern places from Gisborne to Marlborough - should have a mostly settled week. However the weekend is looking like being fairly unsettled, with a trough crossing the country bringing the possibility of heavy rain and strong winds.