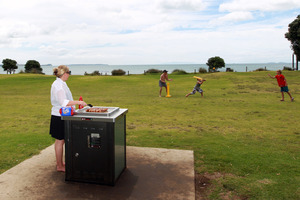 A high will sit over much of the country for the rest of the week, giving the country a chance to dry out and warm up.
A large anti-cyclone was slowly moving in from the Tasman Sea late today and into tomorrow, WeatherWatch forecaster Philip Duncan said.
The high meant lighter winds and far less rain than last week, with the sun coming out in many regions.
"This will be a great chance for people to mow lawns, hang out the laundry - and for some, dusting off the BBQ for the first time this season," Mr Duncan said.
Yesterday, Wellington was lashed by heavy rain in the morning and Christchurch was blanketed by heavy fog.
The suburb of Kelburn in Wellington received 14.4mm of rain from 7am-8am, with 14.2mm falling in the hour before that, while the airport received 10.4mm.
For the rest of the week the nights would be cooler, with warmer days, Mr Duncan said.
"Could be a few frosts popping up this week, but should be lighter than frosts last week. Some fog patches are also possible."
- APNZ