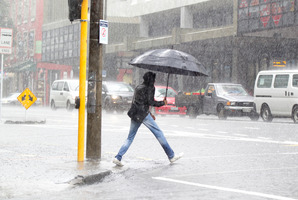 Windy conditions, rain and possible thunderstorms are forecast for the weekend, with a low heading across the country this evening.
Weather forecasters say for much of the weekend - particularly today - rain will fall in many parts of the North Island, including Northland, Auckland, the Waikato and the most of the western side of the North Island.
Metservice meteorologist Daniel Corbett said those on the west coast could be in for some heavy rain and maybe "a few rumbles of thunder" today.
"We're going to see a band of rain move in, as the low moves in from the Tasman Sea," he said.
"It's just going to touch the doorsteps of the Far North of Northland through [this] morning and you're going to see the rain come in to Auckland around when people are out for their late-morning lunch."
A high of 17C is forecast in the city today and again tomorrow , when showers will turn to heavy rain in the afternoon.
The wet weather will reach the east of the North Island later this afternoon. Severe weather watch warnings were in place for Gisborne, Bay of Plenty, Fiordland, Southland, Otago and Canterbury, as well as a severe warning for heavy rain in northwest Nelson.
WeatherWatch head analyst Philip Duncan said the low would put us "smack bang in the windy zone again" with gale to severe gale norwesters expected along exposed eastern parts of New Zealand.
"As we head further into Saturday the sub-tropical element will ignite the rain clouds producing isolated thunderstorms and torrential downpours," Mr Duncan said.
Conditions will ease slightly late on Sunday to early Monday, when heavy rain will reduce to showers.
The weather system is expected to ease away from the country by Tuesday and Wednesday, when the sun is forecast to come out.