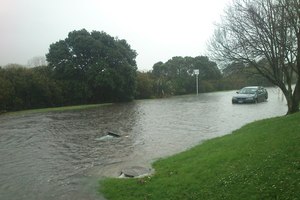 A Remuera resident was trapped inside her home this morning after a flash flood closed off her street, blocking entry and exit to her driveway.
Robyn Waterfall, 34, says she and her neighbours were unable to leave their houses on Portland Rd as heavy flows covered cars and tore down trees.
"The entire street looks like the Waikato River," she says. "I can't get out, no one can."
Today she was forced to miss a job appointment, and says it's the third time in a year she's had to deal with flash floods outside her house.
"It's just ridiculous, and I've had enough."
Her neighbours tell her this has been a reality for over eight years, and the Council continues to "fob" them off.
"I've rung the Council many times, but they just give you a reference number," she says. "They give you this attitude of 'you bought these houses, you deal with it'."
She says it's a constant danger for primary school kids who will think it's "fun" to play in it.
"I swear someone's going to end up getting killed because it's so fast."
Several houses in Takapuna, East Coast Bays, Silverdale and Warkworth also flooded this morning.
This morning's downpour was part of a "big band of rain" moving across the North Island, says Metservice forecaster John Law.
As the low pressure zone moves East, rain in Northland and Auckland will ease to a few showers, but the West Coast will see a lot more rain as the week progresses.
Philip Duncan from weatherwatch.co.nz says the "explosive downpours" have cleared, but gale force winds will continue until the weekend, when the flood risk may return.
"Things move very quickly in Spring, and that's a good thing and a bad thing."
Waikato, Bay of Plenty and Hawkes Bay will recieve the strong westerlies and heavy rain over the following days.