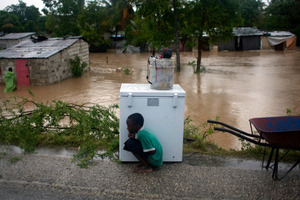 The death toll from Tropical Storm Isaac's battering of impoverished Haiti has risen to seven and includes two young children, officials said.
Early Saturday the storm plowed across the Western Hemisphere's poorest country, where some 400,000 people are still living in tent camps more than two years after a catastrophic 2010 earthquake killed 250,000 people.
An eight-year-old girl died when a wall collapsed at her home, a six-year-old boy died while taking shelter in a tent, and a 51-year-old woman was crushed when her roof caved in, the country's civil protection agency said.
Some 5,000 Haitians were evacuated from tent camps ahead of the storm, which swept across Cuba and has begun lashing the Florida Keys.
The weather had calmed in Haiti by Sunday (local time), but the electricity was still off and internet access was disrupted, according to an AFP correspondent.
- AFP