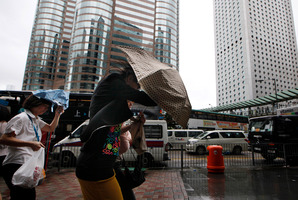 Fifty people were injured and trees ripped from the ground as Typhoon Vicente lashed Hong Kong, packing winds in excess of 140 kilometres per hour.
Authorities raised the typhoon warning to the most severe level of 10 for the first time since 1999 just after midnight, as Typhoon Vicente roared to within 100km of Hong Kong but it was eventually downgraded to eight.
"In the past few hours, Vicente intensified rapidly into a severe typhoon and moved in a more northerly direction, edging closer to Hong Kong," the Hong Kong Observatory said in a statement following the 10 warning.
More than 200 trees fell and pieces of buildings were seen crashing into downtown streets as commuters made their way home from work on Monday evening.
Ferry, bus and train services were suspended or ran at reduced capacity, the port was closed and 15 passenger flights to the regional aviation hub were cancelled.
More than 210 flights were delayed.
The Hong Kong stock exchange delayed the opening of trading on Tuesday until authorities gave the all-clear that it was safe to go to work.
School classes and hospital outpatient clinics were suspended until further notice. Flooding was reported in two areas.
Fifteen people were hospitalised out of 50 who sought medical treatment, officials said.
Almost 250 people sought refuge in storm shelters. Local media reported that more than 100 commuters stayed in the Tai Wai underground train station overnight, unable to get home after services were suspended.
The 10 warning was downgraded to eight early on Tuesday morning as the storm passed to the west and weakened over the southern Chinese coast, but authorities warned residents to remain vigilant.
"Although Vicente is moving gradually away from Hong Kong and started to weaken, gale force winds are still prevailing over parts of the territory with occasional storm force winds offshore and on high ground and frequent heavy squally showers," the Observatory said.
"Members of the public are advised not to relax their precautions."
-AFP