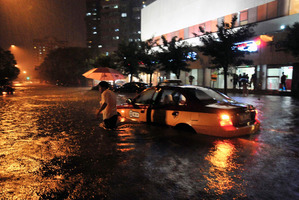 The death toll from the heaviest rain to hit Beijing in more than 60 years has risen to 37, Chinese state media reports.
Xinhua news agency said more victims of the downpours that battered much of the capital throughout Saturday had been discovered, revising up considerably the number of dead from 10.
The rainstorms led to the evacuation of more than 50,000 people from their homes in Beijing, mostly from the city's outlying mountainous districts, as up to 46 centimetres of rain lashed some areas.
Xinhua quoted the Beijing municipal government as saying 25 of the victims had drowned, six had died when their houses collapsed, one was killed by a lightning strike and five had been electrocuted.
Twenty-two of the bodies have been identified.
The agency had earlier reported the death toll at 10 but said it was expected to rise as numerous people, including rescue workers, were missing.
The government flood control headquarters told AFP damage assessments were ongoing.
Three bodies were recovered in Beijing's mountainous Fangshan region where several landslides were reported, China National Radio reported.
Up to 46cm of rain fell in Fangshan district, the most rain to hit the city in a 14-hour period since records began in 1951, Xinhua said.
Photos showed entire car parks flooded, while rescue and traffic workers were seen diving underwater to unclog roadside drains as helpless drivers looked on from partly submerged cars.
Numerous roads in the capital were submerged under up to a metre of water, while 500 outbound flights were cancelled and at least 80,000 passengers stranded.
On Sunday, clean-up crews were out repairing damage under largely sunny skies, while workers scrambled to drain up to one million cubic metres of water from the sewer system.
Despite the damage, the rain was largely welcomed in drought-prone northern China.
- AFP