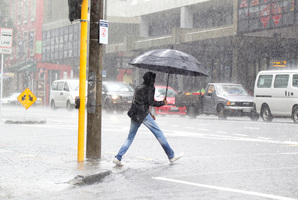 Heavy rain lashed the north of the country overnight, and there's more on the way.
A severe weather warning was last night issued for Northland, Coromandel Peninsula and the western Bay of Plenty.
MetService warned the heaviest falls would be this morning for Northland, and over the course of today for Coromandel Peninsula and Bay of Plenty west of Whakatane, where 150 to 200mm of rain may fall through to early tomorrow morning.
Police said a tree has fallen over on Huia Rd in the Auckland suburb of Titirangi, blocking traffic in both directions.
Council staff are working to the remove the tree as soon as possible, but it may be a few hours before the road reopens.
Police appealed for motorists to drive with caution as the blocked road is obscured by a bend.
Fire Service Northern Communications said there were no weather-related call outs overnight.
- Herald Online staff