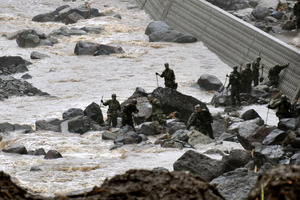 People in southwestern Japan are bracing for more rain after "unprecedented" downpours left at least 19 people dead and eight missing as whole neighbourhoods were swamped.
Television footage showed torrents of muddy water carrying uprooted trees and other debris, while rivers burst their banks and flooded towns and villages in the main southern island of Kyushu.
Residential streets in the city of Kumamoto were buried in mud, while battered cars that had been swept away by flood water were left dumped on hillsides in scenes reminiscent of the March 2011 tsunami in the northeast.
In the city of Aso, landslides buried 17 households, killing at least 17 people with five still missing, reports said.
Public broadcaster NHK showed rescuers continuing their search on Friday morning, using heavy machinery to remove uprooted trees, boulders and debris as rain continued to fall.
The weather had eased somewhat by Friday morning, but the Japan Meteorological Agency said it expected "very heavy rain" again in Kyushu later on Friday.
The downpours were set to add to the misery for an area where 50,000 people were ordered to leave their homes on Thursday after it was lashed by the heaviest rainfall on record.
"We expect heavy rain on the same scale we saw yesterday will fall again today. We remain on the highest alert," said a local official in badly-hit Oita prefecture.
An official in Kumamoto prefecture, neighbouring Oita, said at least 18 people were known to have died, with troops and rescuers continuing their search for seven still missing.
In Oita, a man in his 70s died after being swept into a raging river, while another man remained missing.
The weather agency urged residents of Kyushu to continue exercising vigilance against mudslides and floods after rainfall of 10.1 centimetres (about 4 inches) per hour was recorded in the southern region of Kagoshima early Friday.
-AAP