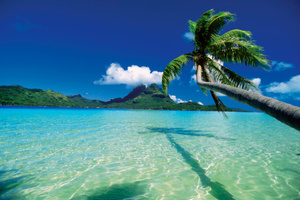 Kiwis are taking their holidays earlier this year. Photo / Thinkstock
Many Kiwi travellers are heading off on overseas holidays or booking trips much earlier than usual after a dismal summer across much of New Zealand.
The Travel Agents Association is reporting a "bounce" in people booking trips overseas rather than waiting to escape to warmer climes during the coldest winter months.
Association chief executive Andrew Olsen said overseas bookings, year on year, were looking very healthy. Historically, April could be a "damp" month in travel terms, but this year April and May were looking "quite strong".
"From what we are hearing, there's been a bit of a bounce there. I mean, Wellington, as a town, is noticeably dead. And Easter's gone. It is noticeable that there's a lot of people who aren't at work.
"And are they going to warmer destinations? Who wouldn't?
"Your typical winter traveller is making decisions about whether they head south for the skifields, or across to Noosa to get a bit of suntan on the beach.
But that generally wouldn't be coming until mid-June or July."
Flight Centre executive general manager Mike Friend said February had been very busy, and April busier than normal, mostly because of people booking their holidays earlier.
People especially wanted to snap up the best deals for cruises and Pacific Island holidays, while some good deals to the United States had been on offer.
The healthy business for travel agents comes as airlines offer "sweeteners" such as free stopovers, side-trips and transfers to lure Kiwis into travelling overseas.
Meanwhile, the travel and tourism industries are watching closely to see what kind of impact new taxes on travel through Britain will have on New Zealand.
Since April 1, the air passenger duty for flights out of Britain has been adding about $25 to flights within Europe and about $178 for flights to New Zealand.
Mr Olsen said many organisations worldwide had made pleas to the UK Government against the "mean-spirited" increase to the duty. Travellers had already been avoiding the UK "gateway" to avoid various taxes "and they will continue to do that".
"So you can still have a look at the stonemasonry of old England, but you don't have to fly in and out of there. You'll find that agents who are providing ... budgetary requests are building itineraries that will exclude the UK."
Tourism New Zealand's general manager of western long-haul markets, Gregg Anderson, said it was too early to know what impact the increase in duty would have on British visitors to New Zealand.
"It is, however, just one factor in a range that will be impacting on travellers' decisions, including the value of the New Zealand dollar against the pound, the ongoing European crisis and new fuel surcharges."
SUNSEEKERS
* Kiwi travellers are heading overseas after a dismal summer.
* Deals for cruises and Pacific Island holidays are popular while some good deals to the United States have been on offer.
* From April 1 the air passenger duty for flights out of the UK has added about $25 to flights within Europe and about $178 for flights to New Zealand.