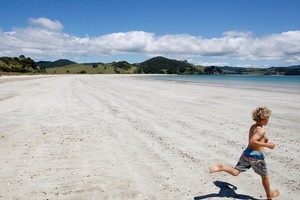 There's certainly been a lot of hot air across the country recently - but the election is finally behind us and now it's time to focus on more important things ... like Christmas and the summer holidays.
Summer has officially begun in New Zealand - but Mother Nature isn't keen on any big change just yet.
The question I'm being asked is, when will the summer weather arrive? Despite some hot, settled days in the mix I see no immediate sign that this spring weather pattern has ended. It may take another two weeks or even until Christmas.
December can often be changeable. It's why many Kiwis think summer shouldn't officially start until a few days before Christmas and not end until the third week of March.
My feeling is that December will be a "slowed down" version of last month. So we'll still have a mixture of warm, cold, sunny, cloudy, wet and dry days, but everything will take a little bit longer to move through and the rain and cold events will start to lose their oomph.
The highs are also shifting - from passing north of New Zealand to crossing more over central New Zealand. This shift has significant consequences. It brings the easterlies back to the top half of the North Island (and slightly increases the chance of rain there), it brings calmer weather to central New Zealand and it shoves the cold blasts further back into the Southern Ocean.
Another benefit of the current weather pattern is that it's still sending rain clouds over the country. Even the east coast (traditionally dry by now) is still seeing southerly fronts and rain.
But a dramatic southerly change that moved up coastal Otago and Canterbury on Monday may have dropped temperatures by 12C in just 20 minutes, but it also passed by with hardly a drop of rain.
"Annoying when we have a ban of water on ... I hate a dead lawn!" Robyn Rodgers wrote on the WeatherWatch Facebook page.
And here's some solid evidence that summer is coming: "It [the southerly change] reached Rangiora about 10mins ago ... The wind is actually nice and refreshing," wrote Kat Moore, one of many Cantabrians glad to see the 28C heat being replaced by a refreshing southerly.
How is that evidence? Well, no one complains about the heat in spring.