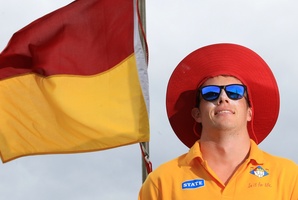 Surf lifesavers are launching their summer patrols over Labour Weekend, but a mixed bag of weather could deter some would-be beachgoers from taking a splash.
The MetService is predicting a "typical" Labour Weekend with an active front brining sun, wind and rain.
It will be mostly warm and dry in eastern parts of the country, including Canterbury and Hawkes Bay, but western areas could get some showers.
In Auckland, where the long weekend usually draws big crowds to popular surf beaches like Piha and Muriwai, there are likely to be showers across all three days.
The weekend marks the start of surf lifesaving patrols at some of the North Island's most popular beaches. The patrols will continue every weekend throughout summer until Easter next year.
In cooler parts of the country, the patrols are set to begin next month as the warmer weather arrives.
Water Safety New Zealand chief executive Matt Claridge said there would undoubtedly be a lot more people out boating, diving, fishing or swimming this weekend.
"It's a good time to remind everyone about the importance of swimming between the flags and supervision of small children."
Mr Claridge also stressed the importance of boating safety, including wearing life jackets and carrying two different communications devices.
He said the warmer months would see a surge in the number of drownings at beaches, off boats and in rivers.
However, this year's drowning toll is well down on last year's, with 56 deaths as of Monday, compared with 80 at the same time last year.
There were 98 drownings in total last year - the third lowest toll since 1980, and a 26 per cent decrease from the 132 drownings the previous year.
Mr Claridge was hoping for another low drowning toll this year.
"I think we're going well, but whatever number we finish on, it will still be too high."
Surf Life Saving chief executive Paul Dalton said the beach was New Zealand's favourite playground, but it could also be a dangerous place.
"Learning about the risks and preparing yourself will mean you can enjoy the sun, sea and sand safely this summer."
About 4000 volunteer lifeguards would spend more than 200,000 hours keeping watch over some 80 beaches this season.
Over an average summer, lifeguards rescue more than 1200 people - a figure that spiked to more than 1600 people last year.
For the second year running, Surf Life Saving will also offer its Find A Beach website, which provides real-time information on the weather, swells, and hazards, as well as ratings for activities like swimming or fishing.
MetService meteorologist Dan Corbett said it would be "a typical Labour Weekend" with some rain.
An active front across the country could bring rain and thunderstorms by Friday, followed by a westerly, wet flow from the Tasman Sea.
That would bring some clouds and showers to western areas, but eastern areas would be dry and mild, with temperatures in the upper teens or lower 20s in Canterbury and Hawkes Bay.
There would be a some showers on Sunday across the country, Mr Corbett said.
WeatherWatch has predicted gale force winds in exposed and eastern areas of the South Island and about the lower North Island - but in sheltered areas further away from the ranges, or in the north, the weather could be "stunning".
"However, it's the unpredictable nature of gusty winds that could be an issue," analyst Philip Duncan said.
- Additional reporting: Rebecca Quilliam
****************
The main centres:
* Auckland
Saturday - fine spells, a couple of showers, temperatures about 18C.
Sunday - showers expected in the late afternoon.
Monday - showers clearing.
* Hamilton
Saturday - fine spells, westerly winds, mercury reaching the upper teens.
Sunday - heavy showers expected in the late afternoon.
Monday - showers clearing.
* Wellington
Saturday - westerly flow, fine weather.
Sunday - some showers, temperatures about 15C.
Monday - clearing weather.
* Christchurch
Saturday - mostly dry, mild weather.
Sunday - fine weather continues and temperatures in the upper teens.
Monday - continuing fine weather.
* Dunedin
Saturday - westerly flow, mostly dry, windy.
Sunday - one or two showers, temperatures starting to dip into the mid-teens.
Monday - colder temperatures, dropping to 10C or 12C and some snow could fall in the ranges.
- APNZ