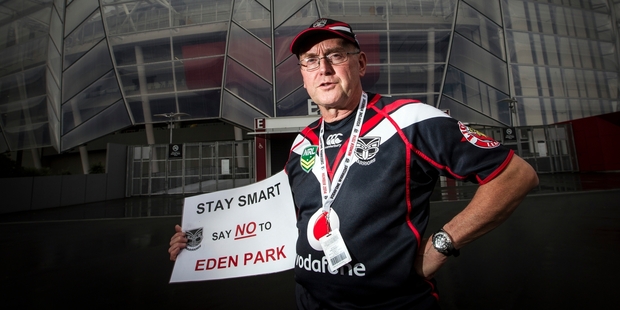 Meet the latest threat to public safety and civil order — 59-year-old Warriors supporter Tony Waring.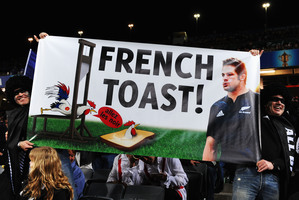 The long-time fan was barred from entering last week's match against Canberra at Eden Park because he was carrying a sign in support of Mt Smart Stadium.
The sign was deemed "inflammatory" by security and Waring was forced to hand it over.
During the mandatory search, a security official found his A3-size sign which read "Stay Smart; Say no to Eden Park" and told Waring: "I'm not sure if you can take that in" before summoning his supervisor.
"I didn't think I had anything to fear," recalls Waring, who had used similar signs since last season when the shift to Eden Park was mooted.
"The response has usually been 'good on ya, mate' or 'well done'," says Waring.
The security manager told Waring he couldn't take the sign in but refused to say why.
"I stood there arguing for a while. I was bloody annoyed," said Waring. "She just kept repeating 'you can't take that in sir'. I think even somewhere like Russia would tolerate such a sign — but you have to laugh. I didn't realise a 59-year-old with a sign could be so dangerous."
Waring has followed the Warriors since their first game in 1995 and has been a season ticket holder for most of the past decade.
Eden Park sales and marketing manager Adrienne Bonell defended the actions as "a sensible decision to remove what was deemed potentially inflammatory material ... which could have prevented other patrons' enjoyment."
Warriors chief executive Wayne Scurrah he had no issue with Waring's sign. "We welcome the passion of our fans and whether they're promoting Eden Park or Mt Smart is irrelevant, the fact that they're passionate means a lot to us.
" Everyone is entitled to express their opinion."

- additional reporting by Matthew Theunissen