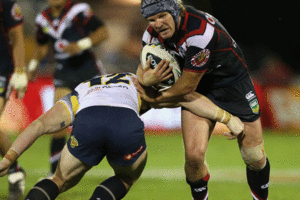 Warriors back-rower Todd Lowrie has returned to Australia after being granted a release from his contract on compassionate grounds.
Club chief executive Wayne Scurrah said the club fully supported Lowrie and wife Sally in their need to relocate immediately.
"This is a case where family comes first for Todd, Sally and their young family,'' he said.
"We're disappointed to see him go. He has been really popular at the club and has made a fantastic contribution on and off the field but he has more important matters to worry about right now.
"We wish Todd and Sally all the best and just hope everything works out well for them.''
Lowrie was halfway through a two-year contract with the club after joining from Melbourne. He's previously played for Newcastle and Parramatta.
"We love Auckland and had settled in well,'' Lowrie said. "It's a great place to live and a fantastic club to be a part of.
"It's really sad to be leaving so soon but family is the only consideration for us at the moment.''
The 30-year-old played 21 games this season and made 659 tackles. Only Nathan Friend, Elijah Taylor and Simon Mannering topped his numbers this season.
- APNZ