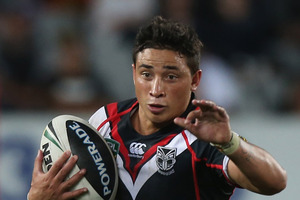 Warriors fullback Kevin Locke does not have a prolapsed disc in his back as first feared.
The 24-year-old was taken off the field on a medicab after collapsing face down just inside the 66th minute of the Warriors' 25-24 NRL victory over Gold Coast at Mount Smart Stadium yesterday.
Locke, making his 75th NRL appearance, lay motionless for several minutes before being placed on a stretcher. It was initially thought he may have a disc problem in his back, which would have resulted a prolonged period on the sideline.
However, Warriors club doctor John Mayhew said an MRI scan showed no disc prolapse, nor acute injury. He said it appeared to be a soft tissue injury, which meant Locke would hopefully miss only one or two games.
The injury will probably see Locke sit out `The Capital Clash' this Saturday, when the Warriors take on the Canterbury-Bankstown Bulldogs at Westpac Stadium.
Head coach Matthew Elliott will name his team tomorrow for the Wellington match, the first time the Warriors have taken a home game outside Auckland in their existence.
- APNZ