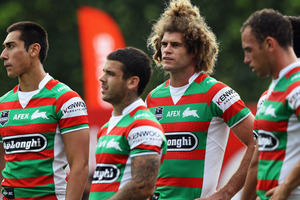 After being bullied on and off the park over the last fortnight, today at Mt Smart Stadium it was the Warriors who were the antagonists.
Last year's grand finalists finally stood up for themselves, dispatching South Sydney 44-22 for a wild win which boosted them from near the foot of the NRL ladder.
"The Warriors pulled our pants down," Rabbitohs' co-captain John Sutton said.
That act of aggression was in stark contrast to what the New Zealand side have shown in recent weeks. Consecutive losses across the ditch saw the Warriors pilloried by fans and questioned in the media, leaving the team needing a win to improve their own morale as much as their two win-four loss record.
The got exactly that at Mt Smart, overcoming yet another early hiccup to dominate the first half before firing more bullets in the second spell shootout to eventually run out comfortable victors.
"I'm really, really happy for the boys that we got some rewards," Warriors coach Brian McClennan said. "It was nice to see some happy faces in the changing room."
The main reason for the smiles was a vastly improved effort in ball security. While their completion rate of 22/31 left something to be desired, the Warriors dominated possession with 54 per cent - a rare occurrence this season and one that McClennan saw as paramount.
"It's the big thing we talked about. Today's the first time we've finished a game all year where we've had more possession [and] the scoreboard pretty well reflects that.
"I'm pretty confident that if our team finish with 50 per cent or more of the ball, we'll be a pretty hard side to beat."
South Sydney coach Michael Maguire agreed with the importance of concerted possession, saying it forced the Rabbitohs into a hole.
"There was a stage today where we had to defend four sets - that's going to wear on your team," he said. "The top teams in the competition are the ones doing that - they get you into the grind, and if you do have an error you can get burned."
While no one would be mistaking the Warriors for a top team at this early stage, the signs are encouraging they can again become one. They even provided the antidote to the problem of slow starting that was threatening to poison their season.
When Souths went ahead after just four minutes, many would have been thinking, 'here we go again'. But, instead of wilting like in weeks previous, the Warriors hit back with four tries in 25 minutes to seize control of the contest.
"Even when we were down 6-0, I could see from the way the boys were playing that we were going to be hard to beat," McClennan said. "We were getting forward well and we were winning some collisions."
Warriors captain Simon Mannering thought getting back on the horse was the main positive out of today, but said his side were far from the finished product.
"What we did well during our pre-season, we went away from a little bit. [Today] we definitely showed, at times, we got back to it, but there's still a lot of improvement to go."
That will be vigourously tested by the Warriors' next two opponents. A trip to unbeaten Melbourne - a team McClennan joked was "travelling okay" - is followed by a home game against second placed Brisbane.
"I think it's good for us," McClennan said. "It's timely to go to Melbourne - I know we'll have to improve a lot on today to match Melbourne.
"We have two good gauges for us to see where we're at."
- APNZ