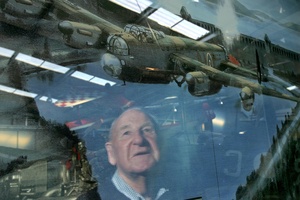 The last surviving pilot of the Dambusters raid in World War II, Tauranga resident Les Munro, will be a guest of honour at England's 70th anniversary of the raid on May 16.
Tall and fit, the 94-year-old is modest about becoming an icon for a big event which commemorates bravery, defiance, technology and heavy loss of life.
"I'm not sure about that, I don't believe I will be treated any differently to the others."
He hopes to meet the two other survivors of the 133 aircrew who volunteered for the 617 squadron operation over Germany.
They took off in 19 Lancaster bombers carrying heavy mines which were designed to be dropped from a low-flying aircraft, bounce on the water and explode against the hydro-electric dams serving the industrial Ruhr Valley.
A Royal Air Force bulletin says pictures of the resulting damage were a huge moral and propaganda boost for the Allies and Britain in particular.
But 53 aircrew died - a casualty rate of nearly 40 per cent - and only 11 Lancasters returned.
"I'm the last surviving pilot of the originals," said Mr Munro.
He said his aircraft was badly damaged by flak while crossing the Dutch coast on the way to the target.
The damage included loss of all communications equipment and they were forced to return to base.
"I was disappointed that my part in the operation had been aborted and felt quite uncomfortable in joining the celebrations by the surviving crews," said Mr Munro, who finished the war a decorated squadron leader.
On returning to New Zealand, Mr Munro became a Waitomo sheep farmer and mayor.
Sir Peter Jackson sought him out as a consultant for a remake of the 1955 film The Dambusters.
Sir Peter's company Wingnut Films intends to produce it after the film-maker finishes producing and directing The Hobbit series.