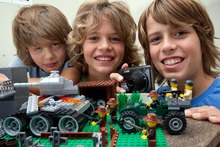 The story of a World War II battle will be told in stop-start animation by three brothers using Lego and their pocket-sized Nikon camera.
Jarrah Swift, 12, and brothers Beau, 10, and Jesse, 8, are hoping to complete their project and share their version of a scene from the Battle of Crete on YouTube on Anzac Day tomorrow.
It is also their way of paying tribute to "Grand-uncle Tommy", who they have been told fought in World War I, was blown out of his trench and survived.
"There's a real soldier who fought in a real war and who is a real hero in our family," said Jesse.
Beau has been responsible for setting up the battle scene, while big brother Jarrah is the man behind the camera.
"There's going to be voice-overs, sound effects and even a scene where a tank gets blown up," said Jarrah.
In Crete, the Allied forces suffered a heavy defeat. Over 3500 men were killed and 15,000 captured.
Nearly 700 New Zealand soldiers died, 1000 were wounded and 2200 taken prisoner during the battle.
Anzac Day is big for the Swift family, from Belmont on the North Shore, and all three boys have not missed an Anzac service since they were born.
Mother Glenda Kane, who authored a children's book, Anzac Day Parade, in 2010, says the Lego battle scene project was one way to "keep Anzac Day real" for her boys.
She says they have not done any research on Grand-uncle Tommy, who is a relative on her husband's side, but is happy for her children to think of him as a hero.
"Unlike some other kids who have granddads or grand-uncles here who have fought in the war, Uncle Tommy is the closest they will ever get to having an Anzac hero," she said. "Uncle Tommy personifies Anzac Day for them."

The Auckland Museum has the official Book of Remembrance open again this year for the public to post messages during the ANZAC period.
The public can also download the Dawn Service programme here.

By Lincoln Tan

Email

Lincoln