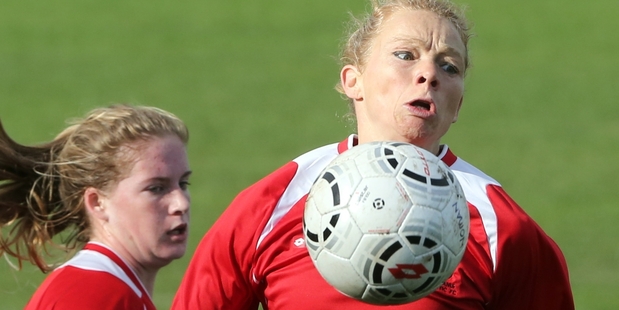 It was a slow start for Wanganui Athletic in their Women's Central League fixture against Upper Hutt City on Sunday.
After conceding within the first 30 seconds of the match, and leaking four weak goals during a slow opening stanza, Athletic showed some unity and resolve to keep Upper Hutt scoreless for the final 20 minutes of the first half.
They were rewarded for their efforts when Tanja Grunwald punished the Upper Hutt keeper for her lack of concentration and for standing outside of the box, by sending a long-range shot sailing over her head into the back of the net.
This was Athletic's first goal of the season and they headed to the break down 5-1.
The women in red came out after halftime with their spirits high and ready to fight.
Athletic kept the screws on the home team and kept them at bay for the majority of the second half.
The visitors again started to show the promise they needed at the start of the season, as they looked to control the game in possession, and more importantly break up any attacking phases from the opposition.
It looked like Athletic would seal their best result of the season, until two quick goals were scored due to poor communication between the defenders, which gave Upper Hutt a 7-1 victory.
While conceding seven goals is always tough for a keeper, Melanie Bragg had an outstanding match between the posts, and pulled off some fantastic saves to keep Upper Hutt from posting the score they might have expected to get.
Athletic will be buoyant heading home this weekend, as they host seventh-placed Lower Hutt City at Wembley Park on Sunday.