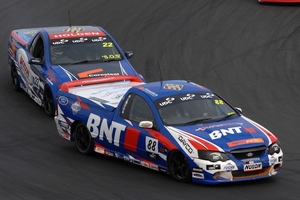 Wanganui racer Matt Gibson wants to dominate the new Toyota TR86 Championship series this summer after he already proved he belongs with the V8 big boys after his second drive in the UDC V8 Ute series at the weekend.
After finishing top three in the Mazda Pro7 Plus Championship class last season, Gibson was tapped to stand in for Hamish Cross and drive the BNT Ford Falcon for one round at the end of August, and was given a second go behind the wheel at the Hampton Downs round.
Gibson came second in Race 2 on Saturday morning and had posted fast times throughout the weekend in the Falcon.
However, a miscalculation on fuel left his ute underweight when he earned his second placing, which incurred a 35-point penalty and cost him a top-five finish for the round.
Cross will be back in the seat for the next round in Pukekohe and Gibson said the team will still be looking strong.
"I have really enjoyed my time ute racing. It could have gone a little better for us at Hampton Downs for sure, but I was learning all the time how to get the most from the ute and it's been great to get a bit of experience and track time ahead of the next challenge."
He will now focus on his Lighting Plus TR86 car for the inaugural season of this championship, which has a prize pool of $20,000 shared between the overall series and category champions as well as individual race winners.
Gibson said he wants to be frontrunner from the word go.
"The car has a unbelievable amount of grip, even in the wet.
"They are very forgiving and are a hell of a lot of fun to pilot around the track. The corner speed of the 86 is amazing and along with a brakes package that is good enough for something with twice the horsepower."
The seven-round televised series begins at Highlands Motorsport Park in Cromwell on November 8-10 and concludes with a three-hour, two-driver endurance race at Pukekohe on May 17-18 next year. "The season looks to be a goody with some high-profile meetings set in place for the Toyota 86 series."
As a multisport athlete who has competed in MMA and has won national titles in judo, Gibson said he was enjoying the camaraderie of his fellow petrolheads, making friends and connections on and off the track.
"Motorsport has two sides to it. The way to get noticed and liked off the track is to be friendly and happy to everyone as you never know who they may be or what they do.
"That works for me as I'm just a smiley kind of bloke anyway," he said.
"Fans are also important, too as they are the ones that get you recognised and known as a driver we've all got to have time for them, that's for sure."
After Highlands Motorsport Park, Gibson will race Pukekohe at the end of November, Hampton Downs at the end of January, Manfeild in February, Taupo in March, then Hampton Downs and Pukekohe again in May.