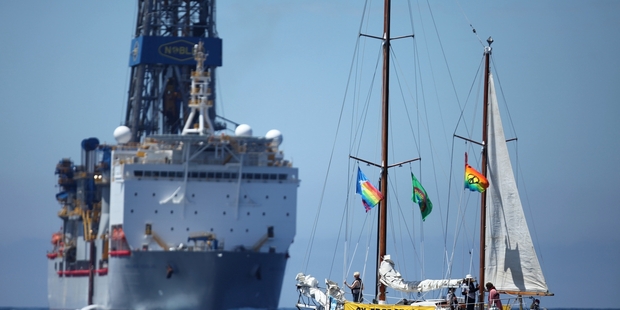 Oppostion to mining for oil, minerals and gas off our coastlines and in our communities is gearing up again as foreign oil giant Anardako began drilling off the coast of Whaingaroa (Raglan) this week.
Despite the strong voice of opposition to mining and deep sea drilling from iwi and environmental groups, resource consents are continuing to be granted. In South Taranaki, those opposed to Trans-Tasman Resources' bid to sand mine for iron ore in the South Taranaki Bight now have less than a month to voice their objections to the Environmental Protection Authority. Over in Waikato, mining company Newmont has been granted a 12-year consent from the Environment Court to mine an area beneath residential properties in Waihi East, known as the Correnso mine.
While there is major opposition to mining, I am also often told that there are also many communities who have benefited economically.
Extracting oil, gas and minerals has been going on for decades under National and Labour governments in our oceans, on our lands and our conservation estates.
But I believe the concerns expressed by iwi and environmental groups are still valid - and we must continue to challenge processes when concerns are raised. There is a lack of knowledge about the cumulative effects of mining, there are issues with the regulatory process, and question marks over the social and economic effects of the operations and the processes used, such as fracking.
In 2010, the Maori Party proposed the Crown Minerals (Effective and Meaningful Engagement with Iwi, Hapu, and Whanau) Amendment Bill, which would have required the Crown to consult effectively with whanau, hapu and iwi. If the bill had been passed, it would have entrenched real engagement with Maori where joint management committees are set up and ongoing kanohi ki te kanohi negotiations. It would have clearly set out the steps required for engaging Maori.
The current mining situation near Whaingaroa has reignited the ongoing tension between economic development and environmental impact. We know that with mining comes the potential for economic growth in the area, including employment, improved infrastructure and investment.
However, in the business of mining and regardless of the technology available, there are no guarantees there will be no accidents or environmental catastrophes. There is always the chance that something could go wrong.
The fear is that the situation could end like it did in the Gulf of Mexico, where a major oil spill forced a huge clean-up operation that destroyed marine life and threatened the fishing and tourism industries.
We know there are risks to mining, and we also know that some hapu and iwi will choose to work with mining companies to secure economic growth for their people. While we are against mining in principle, we also support hapu and iwi and their rangatiratanga over their lands, knowing that they do this with a sense of responsibility and duty to make decisions in the best interests of their people, their communities and the environment.
These will be difficult decisions for many Maori communities as they weigh up the possibilities of creating new jobs and therefore economic opportunities in their rohe with their role as kaitiaki to maintain, respect and preserve the environment for future generations.
What is really needed are more opportunities to explore and develop renewable sources of energy. That really is going to be the way of the future.