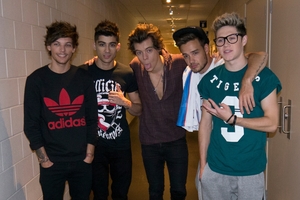 I have long known that my ticket on the "Grumpy Old Man Express" has been booked. What I hadn't counted on was that last weekend on a visit to Auckland my ticket would be clipped and I would near the point of no return - all thanks to those cherubs known as One Direction.
I know this is meant to be a business column so, in keeping with that theme, the British pop group One Direction is a marketing machine. It is just that this machine is like a force of nature sweeping all before it.
And, like tornadoes, if you get caught up in it, you can get spat out like a piece of corrugated iron if you are in the wrong place at the wrong time. Or, in our case, the wrong hotel.
On arrival at the hotel I noted the pubescent-girl-to-adult ratio in the lobby was unusually high. I initially put that down to school holidays, unaware there was a marketing storm descending.
On my return from visiting a client it became clear that a seething mass of cellphone-carrying "tween" humanity had taken residence at the hotel's main exits and, inside, the lobby had taken on the feel of an all-girls' college hallway between lectures.
Clearly one of the marketing gurus in "Team One Direction" had leaked the location of where the boy band were staying. Yay.
The tornado was touching down.
It all seemed very surreal, but nothing more so than the band's appearance in the restaurant on Friday night. Shadowed by bodyguards, you had the impression that they were directed to do so by their marketing overlords. I guess they wanted to stoke the excitement of the tweens, much like you keep a fire going by pouring gasoline on it.
But surreal quickly becomes annoying when the unintended casualty of the marketing machine is your sleep. When squealing young women are running in the corridor outside your room in the wee small hours of the morning, your appreciation for the business that is One Direction turns to wrath.
While their parents slept peacefully in the middle class suburbs of Auckland, their daughters were let loose on a city hotel. On Saturday night it all became too much and I launched a cleansing rebuke against a gaggle which decided that outside our room was the perfect place to analyse the concert performance of the evening. God, that felt good.
But being dressed in a white bathrobe and delivering verbal justice didn't have the desired effect - in fact, before I could summon an expletive, several were being verbally thrown in "one direction" (toward me!). Note to self: A bathrobe is not appropriate attire when staring down a marketing storm.
By Sunday morning we felt we had been assaulted, as if the hotel had been picked up and tossed. Checkout was quiet, like the eerie calm after a tornado.
We were like survivors emerging from the rubble. Other guests were in tears and there was talk of experiences inside the maelstrom, of weekend retreats ruined, of girls scaling fire escapes, of the selfishness of generation Y and the apparent absence of parental responsibility.
All the while the boy band slept soundly above us, as the marketing machine churned on to the next venue, where unsuspecting Gen X holiday-makers are in for a hell of a shock - and a free ticket to grumpyland.
Russell Bell"s Zenith Solutions is a specialist Wanganui business advice and consultancy practice - 021 2442421.