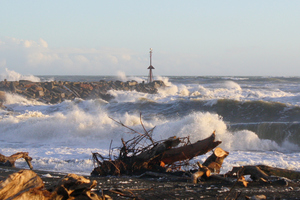 A previous Conservation Comment contributor mentioned a recently-released report by the Prime Minister's chief science adviser on how climate change is likely to affect New Zealand over coming years and decades. It is signed by Sir Peter Gluckman, but much of the heavy lifting was done by some of New Zealand's leading climate scientists.
The title of the report is "New Zealand's changing climate and oceans: The impact of human activity and implications for the future". To find it online go to www.pmcsa.org.nz/wp-content/uploads/New-Zealands-Changing-Climate-and-Oceans-report.pdf or simply type the title of the report into your search engine.
There are good reasons for taking the time to do this - the report offers a current best guess for how climate change will apply specifically to us. We have paid for it with tax dollars and it's Conservation Week, a good time to familiarise oneself with environmental matters.
Those hesitant to wade into a scientific report on the grounds that it will be a thicket of incomprehensible jargon can rest assured.
This report was written so that even a busy, ex-currency trader who has shown no particular interest in the environment can understand it. If he can, so can you.
It discusses the uncertainty inherent in prediction of probabilities relating to something as complex as climate change, but warns against using this as an excuse to do nothing.
I will now, in an attempt to persuade reluctant readers to fill in the blanks, shamelessly cut and paste a few of the scary bits from the report.
The news is not all bad but "marginal benefits are likely to be small compared to the adverse effects associated with climate change on society as a whole".
"By the late 21st Century, New Zealand is expected to be at least 2C warmer on average compared with 1990. Extremes will have shifted, probably with fewer frosts and more extremely hot days and lengthy droughts. Precipitation patterns are expected to have altered, with more frequent heavy rains, and dry spells.
Changes are not expected to be uniform, however, with increases in rain in the west and decreases in the east and north.
"The sea level rise is expected to exceed the current rate of 30mm per decade, which, while it is seemingly small, will result in today's highest tide levels and storm surges occurring much more frequently.
"Ocean acidification is another direct result of increasing CO2 concentration ... [this] is beginning to be observed here [and] may have significant impact on the oceans surrounding New Zealand ... felt within decades."
Will this report make a difference to our present Government's policy? It would be great if it could at least shift oil and coal from the heart of the Government's energy strategy.
I have a nasty feeling, however, that when Mr Key comes to the part in the executive summary that identifies the intermediate term as the next 30-40 years, the report's importance will slide down his priority list.
These days politicians don't seem to focus much farther ahead than the next election.