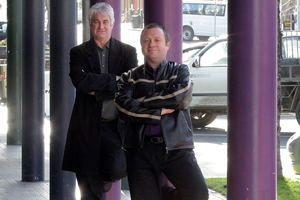 Well, it's getting close now - the opening night of Repertory's The Importance of Being Earnest is this Friday night.
The set is complete, the gorgeous costumes mostly ready, lines learned and the actors honed to perfection and ready to entertain you.
I am only "on" in act one, so it was a pleasant surprise to see Mark Rayner put down his director's baton, and appear on stage as Canon Chasuble in acts two and three.
Even though I think Mark would have been quite happy to have someone else play this part, he brings such a vitality and professionalism to the role that I, for one, am delighted to see his extra talent on display.
The job Mark has done on the production, direction, set design, set construction, script, auditioning, publicity etc would have been enough for two or three blokes, without the added burden of having to learn a part.
I also notice that Mark and the Repertory kitchen fairies have never been seen in the same room at the same time.
The lines are still fresh and funny even after hearing them many times in rehearsals.
A Trivial Comedy for Serious People is the sub-title of the play, and it lives up to its name.
In every line there is wit; as often as not a dig at the social mores of the time, and even though that time was 1895, it is still instantly recognisable - and the digs are funny, the characters believable.
The youthful brains of James Graves and Mike Pyefinch are well suited to retaining their intricate lines as Algy and Jack: "The very essence of romance is uncertainty. If ever I get married, I'll certainly try to forget the fact."
Kerry Kirkwood's mastery of Lady Bracknell is truly phenomenal: "Fortunately in England, at any rate, education produces no effect whatsoever.
"If it did, it would prove a serious danger to the upper classes, and probably lead to acts of violence in Grosvenor Square."
Or: "To speak frankly, I am not in favour of long engagements. They give people the opportunity of finding out each other's character before marriage, which I think is never advisable."
Or speaking to Cicely (Karen Hughes), who, while 18, has told people that she is 20: "You are perfectly right in making some slight alteration [to your age]. Indeed, no woman should ever be quite accurate about her age.
"Thirty-five is a very attractive age. London society is full of women of the very highest birth who have, of their own free choice, remained 35 for years."
And the young women get plenty of good lines as well. The interchanges when Cicely and Gwendolen (Linda Kerfoot) believe they are competing for the same young man are classics: "I never travel without my diary. One should always have something sensational to read in the train".
But I am left with a subtle sense of loss - it is a pity that English isn't still spoken this way. Those sparkling conversations and delightful turns of phrase are no longer heard at even the poshest dinner parties, and are not likely to be heard on the inane candy floss that passes for entertainment on the big screen, or the putrid soaps of this "enlightened" age.
Sadly, the generations raised eating dinner in front of the television or while playing Grand Theft Auto will acquire the language they deserve.