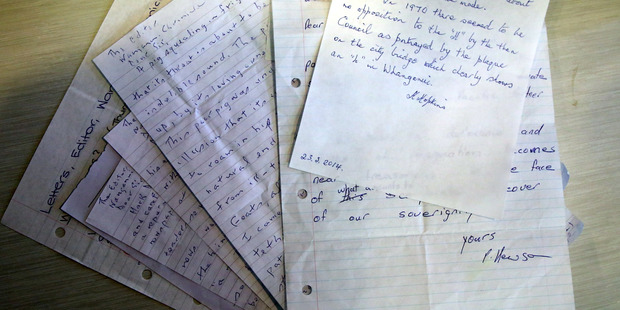 Brickbats and bouquets
Congratulations and thanks to the Chronicle (and notably editor Mark Dawson) - assisted by the Chamber of Commerce and Grey Power - for putting in the work required to make the two-part candidates' forum such a success.
Despite the large field of hopefuls, Mr Dawson kept the pace moving and posed a range of useful questions before giving the audience members a crack. Candidates' statements and responses ranged from woefully ill-prepared and ineptly delivered to well-rehearsed and perfectly timed.
What they actually said is, of course, another matter and the reception they received probably depended on what audience members wanted to hear.
The incumbents seeking another term generally were true to their form around the council table. While some have developed polished and persuasive rhetoric, others appear to have learned little during their time on council - in some cases, multiple terms - and are unable to progress beyond mumble, muddle and spin.
Then there were those who stayed away, no doubt wisely adhering to the old adage that it's better to remain silent and be thought a fool than to speak out and remove all doubt.
But my real point is to acknowledge the Chronicle for delivering the forums in real time via the internet to people throughout the district who either were unable to attend in person, or who decided not to join the brave souls who ventured out to the Memorial Hall in such foul weather.
There appear to have been several thousand viewers following the debate from their home computers or mobile devices, with lively comments running throughout.
We look forward to another livestream of the mayoral candidates on Thursday, September 15.
But while the Chron is walking the talk in the new digital age that is transforming news delivery (the week began with RNZ livestreaming its new "radio with pictures" of the Auckland mayoral debate) our district council is failing to put its money where its mouth is.
Despite all its talk about being an international digital superstar with broadband connecting residents and businesses, its own meetings are not livestreamed or archived so we must rely on necessarily truncated and sometimes inaccurate written minutes.
Any leap into the 21st century must include upgrading the meeting chamber's pathetic sound system which was left behind from the Laws years. The large turnout of residents who responded to the mayor's urging to attend the critical August 9 wastewater meeting were frustrated and angry that councillors and officers still don't appear to have come to terms with the need to ensure they not only have a microphone in front of them but actually speak into it.
The new council will have many pressing issues but until they get on top of these basic, low-cost technologies and improve communication, they will face ongoing calls for greater transparency and suspicion that they are following the mushroom principle and keeping us, their "employers", in the dark.
CAROL WEBB
Springvale
Wonder women
The candidates meeting on Wednesday night was a thoroughly entertaining session with all candidates enthusiastically promoting themselves - a few more so than the others.
Of interest was the emergence of two wonder women in Helen Craig and Jenny Duncan who, from being the two foremost protagonists of the unaffordable wastewater treatment plant a few weeks ago and the five-year 30.59 per cent rates increase it will necessitate, are now telling us they will press for just a 3 per cent (Craig) and 2-3 per cent (Duncan) increase in year 2017-18.
Strange things emerge in election campaigns - tooth fairies and all!
GRAHAM ADAMS
Springvale
Tree Travesty
It sounds like the Mad Hatter's tea party when a group of soon to be ex-councillors make decisions to sell a valuable city asset - our pine trees.
Stop this process, I say, because you have no authority, on the verge on an election of a new council, to make this decision. Moreover, it's a travesty of democracy to make major decisions like this on the eve of a new council.
I have no idea who is advising you Ray Stevens but they are not the people who are advising my wife and I.
We know of one party interested in buying the trees. We have a share in a small plantation (planted about the same time as these) which recently was valued, if we sold now, at about $30,000, but with a suggested value in five-to-six years of $80,000. Worth waiting.
Just stop.
DAVID BENNETT
Whanganui
Rates ratchet
In the August 24 edition of the Chronicle, the Whanganui District Council stated: "The rates increase in four years' time is 22 per cent ..."
I doubt there are many, if anybody, in Wanganui who will have a 22 per cent increase in their income in the next four years. There are many who are on fixed incomes and struggle to cope with any increase in costs, so to be faced with an increase of nearly a quarter is horrifying.
Yes, think about it, this means that if your rates were $1000 per year (don't we wish), then in four years time that will be $1220. If you are paying $2000, it will become $2440.
Gee, I wish I could make my income increase by such amounts, but - oh, that's right - I don't get to tell my employer how much more he will have to pay me each year. If I tried he would certainly have the right to disagree with me. Council doesn't give us that right.
K A Benfell
Gonville
Beauty tips
I was surprised with the vicious attack Rachel Rose made on some of the UCOL courses in her Chronicle column.
In her opinion, beauty does not justify being taught so would she rather these students trying to better themselves just gave up and went on a benefit?
Perhaps Rachel should offer herself as a model to see exactly what these students do and could do for her.
MURRAY HUGHES
Whanganui