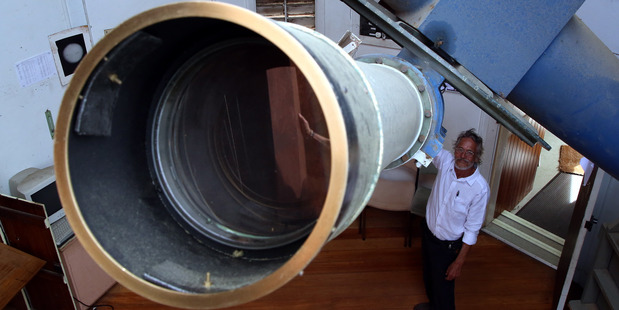 By Sam Kilmister
One of Whanganui's most historically significant buildings is in danger of being forgotten, according to a leading New Zealand astronomer.
The Ward Astronomical Observatory, located in Cooks Gardens, was responsible for the significant discovery of a collection of double and multiple star systems in the early 1900s.
However, the observatory's former vice-president and night observer, Ormond Warren, now regards the building as "old" and "neglected".
The 66-year-old has returned to Whanganui from Auckland, where he has been an astronomical researcher at Auckland University and an honorary research associate at the Carter Observatory, New Zealand's national observatory.
Mr Warren says he is "horrified" to return to the city after two decades away to find the historic Ward observatory "hemmed" in by sporting facilities at Cooks Gardens.
But what upsets him the most is that the internationally-famed observatory is still neither a tourist attraction nor an education facility.
Built in 1901, the Ward observatory is home to the largest unmodified refractor telescope in use in New Zealand, measuring 9.5 inches (24cm). It is, perhaps, more internationally recognised as the place where Joseph Ward and Thomas Allison discovered over 200 double stars, 88 of which are still recognised as "Ward doubles".
Following Ward's death in 1927, the observatory was gifted by the Astronomical Society to the Whanganui City Council, debt free.
"We have this remarkable telescope - it is an impressive machine, not just an antique," Mr Warren said.
"There's a telescope here that can look at the flames from the sun in daylight; it can look at Jupiter.
They can't get the same picture [resolution] in Auckland or Wellington that they can here. It is disappointing it's not made use of."
Mr Warren recalls speaking to the Whanganui District Council in 1995 at the invitation of then mayor Chas Poynter where he discussed the potential of the Ward observatory as a tourist attraction for the city.
He is disappointed that during the intervening decades little has been done to exploit the international scientific fame and significance of the site.
"I explained the pedigree of the telescope, and I explained how it can certainly be an attraction for astronomers everywhere," he told the Chronicle.
"It is one of the important telescopes in the astronomical community in New Zealand."
Mr Warren hopes that with the impending council elections, a newly elected council will do something to recognise the historic telescope and the feats of Ward and Allison.
"I feel they need to publicise it and assist the astronomical society for the betterment of schoolchildren and the public.
"If they had some help from the council, like funding for audio-visual stuff, it would create a bit more excitement.
"I would like to see the observatory open more to the public, because I feel if people got a chance to see some of the things that are out there, they will become enthused," Mr Warren added.
Since 1984, the Ward observatory and its telescope have had a Heritage New Zealand category I rating.
Word Count 538
Edition A
Page A5
Caption
POINT OF VIEW: Ormond Warren with the 24cm refractor telescope at the Ward observatory in Cooks Gardens. PHOTO/ STUART MUNRO
Publication WAC