At the end of this year, after nearly half a century of journalism, the Wanganui Chronicle's elder statesman will retire. Anne-Marie McDonald talks to John (Mas) Maslin.
What John Maslin doesn't know about journalism probably isn't worth knowing.
He's been in the industry for nearly 50 years, working on newspapers and radio stations in Taranaki and Whanganui.
He's held numerous jobs, from cadet reporter to sub-editor to proofreader to editor.
He's covered every subject you can think of; he's seen six mayors wear the Whanganui mayoral chain.
And he's seen journalism change in ways that were impossible to imagine when he began as a cadet reporter in 1968.
By his own admission, John was the least likely person ever to become a journalist.
As a kid growing up in the Taranaki town of Eltham, journalism as a career was something he had never even considered.
He left school at 17, having "finally" passed School Certificate at the third attempt.
"I was studying geography, English, history, maths and biology, but my mind wasn't really focused. I was only at school to eat my lunch and play rugby. I certainly didn't do a lot of learning. But it was a time when you could leave school and virtually walk into a job, so having a certificate wasn't always necessary."
For a year John worked in Stratford at a timber yard, unsure of what he wanted to do. Then his life took an unexpected turn.
"I would have been about 18 when just by chance I saw an advert for a cadet journalist on the Taranaki Daily News."
He applied for the job on a whim, and was surprised to be contacted by the chief reporter, who came to Stratford to interview him. John's recollection of the interview was that it didn't go well.
"I was being typically vague in answering his questions and he said to me, 'What are you alluding to?' I didn't have a clue what he was going on about. I fudged the answer and that night I went home and looked 'allude' up in the dictionary - which was probably a first for me."
So he was "absolutely staggered" when he heard he'd got the job.
"I had no idea what I was in for. But I moved to New Plymouth and started working for the Daily News."
After a few months at the Daily News, John was sent to the newspaper's branch office in Taumarunui.
"I had no idea why I was sent there because I was really struggling with the job. It was really being thrown in the deep end. One day I was sent to cover court, even though I'd had no training and no experience in court reporting. Court was held in Ohakune and I didn't even know where the courthouse was.
"I sat there with a pencil and a wad of copy paper and wrote stuff down and hoped like hell I was doing it right. The stories got published and we didn't get sued, so I must have done something right."
But his time in Taumarunui was not happy.
"I was a bit of a rebel, and I didn't want to be there. Nothing to do with Taumarunui itself; I made some good friends there, but I didn't like the work.
"The mayor of Taumarunui at the time, Les Byars, didn't like me and didn't approve of me.
The feeling was mutual. I don't know why - maybe it was the long hair and the fact I mixed with a group of guys who were pretty crazy in the weekend.
"Anyway, Les made sure my stint in Taumarunui was the shortest on record for a Daily News reporter in Taumarunui. He got hold of the editor and I was on my way back to New Plymouth."
We were like the untouchables. One editor referred to us as the 'animal kingdom' No-one dared come near us because we smoked, we drank, if it got too hot we'd just take our shirts off and we gave everybody hell.

SHARE THIS QUOTE:
Soon after he returned from Taumarunui, John was offered a job at the Wanganui Chronicle.
"I thought I was applying for a reporter's position, but when I turned up for work on my first day I was told I would be working as a sub-editor. Which was interesting, because I only had a very vague idea of what sub-editors did."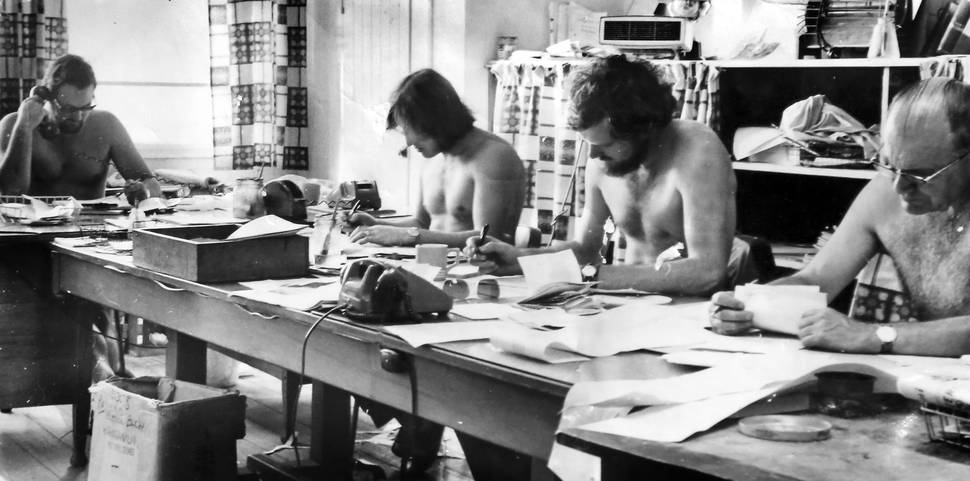 But his time on the sub-editors' bench was a turning point in his career as a journalist.
"I finally learned exactly what journalism was about. I learned how stories were crafted, and the whole production of the newspaper. That was a very good grounding, and I've always been appreciative of that."
In those days, journalism had a rough and ready culture. But it was also very social, and heavy drinking was the norm.
"In New Plymouth the subs would start work around 5pm, and then at 7.30pm they'd have a tea break, which meant going across the road for a jug and coming back to work.
Dinner was at 10.30pm, and that meant going back for more jugs, then working till about 2am.
"Remember that this was in the days of six o'clock closing, and pubs didn't stay open late.
The subs went in the back door of the pub, and that was just how it went."
The sub-editors at the Chronicle in the 70s were known for being a "law unto themselves".
"We were like the untouchables. One editor referred to us as the 'animal kingdom' No-one dared come near us because we smoked, we drank, if it got too hot we'd just take our shirts off and we gave everybody hell.
"When I think about it, we were really cruel. We had one cadet reporter straight out of school - he's a good mate of mine now, but he wasn't back then - and he'd sit in the newsroom in front of his shiny Imperial 66 typewriter being shot at by an air pistol that one of the subs had brought to work. We used to take it turns to have pot shots at this poor guy.
"On another occasion we ended up with a stuffed duck that had come from the Whanganui Regional Museum - it must have been brought in to have a picture taken, for some reason. That became target practice as well for another sub that turned up one day with a bow and arrow."
I was being typically vague in answering his questions and he said to me, 'What are you alluding to?' I didn't have a clue what he was going on about. I fudged the answer and that night I went home and looked 'allude' up in the dictionary - which was probably a first for me.

SHARE THIS QUOTE:
There were other memorable events.
"I remember when a reporter got into an argument with the then-news editor over something really petty, but it actually came to blows.
"Overnight, posters for a 'rematch' appeared around the building with pictures of two boxers and superimposed photos of these two guys over the top of them. It was billed as "The Big Fight Tonight".
One of those guys got the nickname "Rocky" from that incident, and he's still called that sometimes, all these years later."
After several years as a sub-editor and a reporter on the Wanganui Chronicle, John spent six years at a local radio station (2ZW). It was a time when provincial radio reporters did TV assignments as well.
But he returned to the Chronicle in the late 1970s. He worked for a time on the Wanganui Herald and was chief sub-editor on that paper until it closed in 1986.
In 1996 he was appointed editor of the Wanganui Chronicle, a role he held for eight years. Under his watch the Chronicle won the PANPA newspaper of the year title in 2003 (for circulations under 25,000) judged across Australasia and South East Asia.
"If someone had told me when I started as a cadet reporter that I would one day end up as an editor, I would have been pretty surprised. I don't think I would have believed them."
Over the past 50 years John has seen massive changes in journalism.
"I was lucky because when I started, it was journalism the way it had been for a long time.
The production processes for newspapers back then hadn't changed for hundreds of years. But as I've gone on through my career, the pace of change has accelerated so much. Entire trades in the industry have disappeared.
"Years ago reporters never used to do the 'death knock', which is that awful phrase we use when you have to knock on the door of someone who has lost a loved one in an accident, or whatever.
"But it's usual now. I've done that a few times, and it's something I've always hated doing.
"My personal view is that we don't need to do it. For me that's a step too far. There are times when we need to put ourselves in others' shoes and consider how we'd feel and react."
For many years, John held on to the belief that hard copy newspapers would still have a place well into the future, but he no longer believes that. Having seen so many changes in the industry over the past decade or so, he now believes newspapers are becoming more like "radio with pictures".
"It's just progress."
John said it's not the big, dramatic stories that stick in his mind, but the human interest stories about people.
"The ability to be able to craft words in such a way that people have an abiding memory of them - that, for me, means a great deal. There have been tragedies as well that really leave a mark on your soul. And there are certain people I've interviewed and colleagues I've worked with who I know I'll never forget.
"But I'm particularly proud of the series I wrote on family violence in late 2008. It highlighted a dark side to our community that needs addressing."
A keen sportsman, he played rugby, cricket and basketball and for several years was manager of the Wanganui Wolfpack, which competed in the national second division basketball competition. And more recently he and his wife Nanette were competitive ballroom dancers, winning South Pacific, Australian and NZ titles.
John will leave the Wanganui Chronicle at the end of 2016.
Golf, travel, biking and whitebaiting are some of the things he intends to spend time doing after he retires.
"And I'll be able to read the news rather than write it. I'm looking forward to that."
And John says one of the things he's looking forward to about retiring is not having to be intrusive.
"You have to be nosy to be a reporter - and for the most part that's fine, but there are occasions when you wish you weren't a reporter and having to ask those nosy questions.
"Then there are the times when you have to deal with people who are offended or upset by something that's appeared in the newspaper. It never gets any easier.
But for all that, it's been a hell of a ride, he says.
"I've worked with some wonderful people and covered some amazing stories. I'm glad I've stuck with it."
His years as a journalist have been filled with both good times and difficult times - and he regrets none of it.
"I've had opportunities that a lot of people never get, especially not a scruffy kid from Eltham."