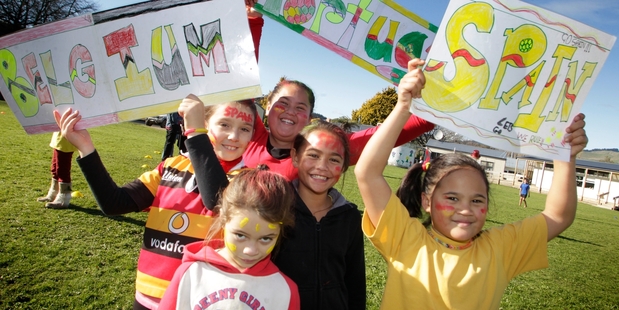 Aberfeldy School has gone crazy for football.
For the past few weeks the school's 49 students have been divided into teams - each one representing a team taking part in the Fifa Football World Cup, currently being played in Brazil - and have been competing in their own mini-tournament.
The grand finale was held on the school field yesterday, the last day of term.
Teacher aide Robyn Mann said the kids had become very enthusiastic about football.
"The kids have been playing and watching football for a while, and there's a fair bit of competitiveness going on. But it's good for them, it teaches them teamwork," Mrs Mann said.
The teams dressed up in their colours and had banners and team chants.
Yesterday was also Independence Day in the United States, so Mrs Mann, who moved to New Zealand from the state of Idaho 11 years ago, introduced an American theme to the football tournament.
Cheering on the teams in her American colours and cowboy hat, Mrs Mann also arranged for a special school lunch of hot dogs and potato salad.
"Independence Day is a big deal back home. My family will be having a big barbecue - it's a great day."