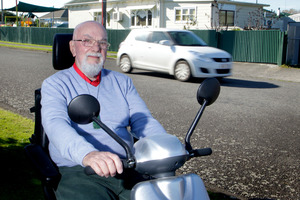 Marton's Dusty Miller wants people to see the real impact negligent driving can have on people's lives.
Doctors said Mr Miller, now 80, would not survive when a taxi he was in was hit by a drunk-driver in 1972. He was 38 at the time and heading home to Porirua from work in Wellington when a driver in a car with no headlights on and driving on the wrong side of the road went through an intersection crashing into the taxi.
"I guess you could say my life changed forever," Mr Miller said.
"The surgeon said I wasn't going to live [but] being a stubborn bugger, I didn't die."
Mr Miller is supporting Brake's "tune into road safety" campaign as part of Road Safety Week which started yesterday.
"I think one of the worst things that happened is as a father of four young kids, I couldn't play with them. I was never able to teach my son to kick a football," he said.
He believes people responsible for such crashes should have to face victims and understand the impact it had on lives such as his.
This year's campaign is focussing on driver inattention.
New Zealand director of road safety charity Brake, Caroline Perry, said smartphone technology meant constant use of mobile phones had become the norm and too many people were doing this while driving.
"Many people who wouldn't think of drink driving are succumbing to using their phone and other distractions, oblivious that the effects can be similar and the consequences just as horrific," she said.
Brake says 21 people died nationally last year in crashes caused by driver inattention. Police figures from the Wanganui-Manawatu region show police issued 416 infringement notices to people calling or texting while driving.
"Driving is one of the most risky activities you can undertake and needs your full attention," acting national manager for road policing Peter McKenzie said.
Brake is running the campaign with the New Zealand Transport Agency and the New Zealand Police.