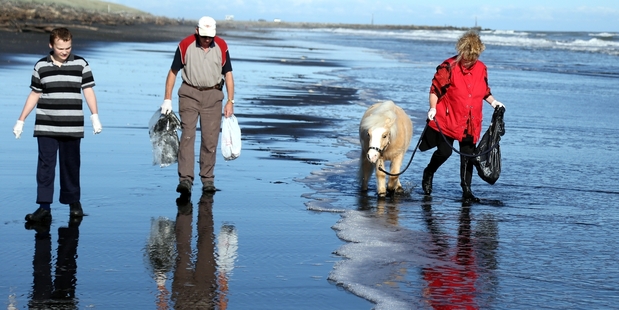 The Whanganui Community Gardens Project Team is calling for people to join in a beach clean-up at 1pm on Sunday for Castlecliff Beach.
"The birds and sealife would appreciate it if everyone always picked up the rubbish they see even if they themselves did not drop it," said organiser Joy Clark.
Ms Clark was shocked when she saw a video of a bird eating a piece of rubbish, and decided to organise the clean-up.
"The little bits are the important bits," she said.
"We're all very good at picking up bottles and cans when we see them - I see people picking up things all the time, it's these little weenie things - They get stuck in their tummies, they can't bring them up, they think they're full and they are starving to death."
They already had at least 20 people say they would be at the clean-up on Sunday, and hoped to run it on the first Sunday of every month. Sustainable Whanganui had donated various rubbish bags and gloves.
Sponsors of spot prizes for the clean-up included:
Dominoes (pizza vouchers)
Castlecliff Club (one-year membership vouchers).
Dave Hoskins ($20 to purchase hot chips vouchers)
Q West ($20 to purchase hot chips vouchers).
Two signed copies of books by Palmerston North photographer and artist Alex L Scott (with paintings and photos including NZ Birds).
Anonymous donations of small prizes for children.