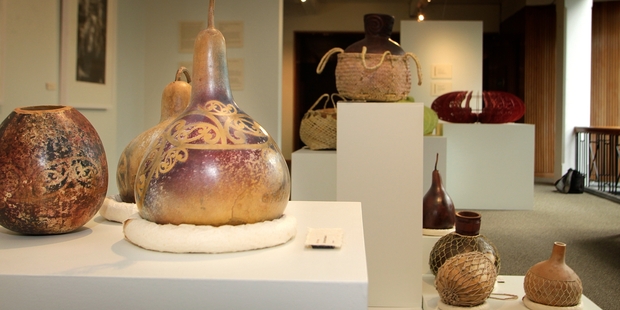 Gourds are the subject of a new exhibition at the Whanganui Regional Museum.
Four artists from Manawa Ora Whanganui, the local Maori Artists Trust, and staff of the museum have combined resources, talents and interest to produce Taha - A Conversation With Hine-pu-te-hue. The museum's historical collection of gourds - known to Maori as taha or hue, are surrounded and reinterpreted by contemporary works from Manawa Ora Whanganui.
The artists are printmaker and papermaker Marty Vreede, papermaker Marilyn Ngahuia Vreede, weaver Tania Anderson and carver Werahiko Craven.
The gourd is one of the earliest known cultivated plants, grown and used by people in every inhabited part of the earth.
The gourd was the first cultivated plant in New Zealand when Maori settled here. Hue seeds were brought from the Pacific islands, along with other important plants.
Taha, containers made from hue, were used as water vessels and for preserving food. They were essential for survival on the long ocean voyage to Aotearoa. Hue were traditionally used as fishing floats on nets, and as flotation aids in swimming. Hue are also used for a range of traditional Maori musical instruments.
Alongside the exhibition, Wanganui students will be learning about the gourd through the museum. Locally grown taha have been dried and weavers and carvers will continue to create works in traditional and contemporary forms.
Workshops and experiences will be run over 10 months and will change, according to season.
The exhibition runs until February next year.