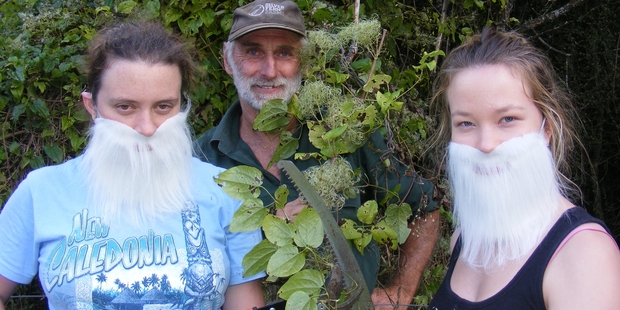 Rangitikei Environment Group's efforts to slaughter old man's beard last month were a success.
The group (REG) held a weekend working bee in the Taoroa, Pukeokahu and Gravity Canyon area near Taihape. Organiser Hugh Stewart was pleased with how much was done.
Infestations of clematis vitalba on roadsides were sprayed with herbicide, or hand cut near organic farms. Students from Massey University, Bulls and Marton volunteers, local farmers, a Mangaweka DoC worker and REG teams all gave up their time on a Saturday afternoon.
Later, all the workers met at Fraser Gordon's property near Taoroa Junction and applied copious amounts of "elbow grease" to 3ha bush remnant of towering kahikatea, totara and broadleaf trees.
Chainsaws made short work of 20-year-old vines, some measuring 10cm diameter, while volunteers with loppers and pruning saws sliced through smaller vines to free tall trees. The cut vines wilt in a few days, which will stop them setting viable seed.
When asked whether the workers were "getting on top of it", the Conservation Department's Alison Dorrian said old man's beard was reducing in reserves targeted by DoC but continued effort was necessary to keep ahead of reinfestation from the seed bank present within the reserve and from uncontrolled areas on private land and roadsides. The department's first priority was to protect the Ruahine Range from infestation, so work was carried out in those reserves closest to the forest park's boundary.
"It makes best use of limited resources by working in areas adjacent to those controlled by the [Horizons] Regional Council."
Groups such as Forest and Bird and REG support these objectives with their work in the Rangitikei District.
Enabling land managers to control OMB on their own properties protects commercial pine plantations and reduces soil erosion caused by loss of root mass.