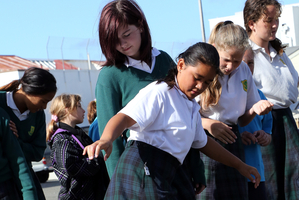 Children will have their say in an anti-bullying initiative for Wanganui.
With $100,000 from the Ministry of Social Development to put towards an anti-bullying programme, children from various Wanganui schools are already brainstorming ideas for activities, such as a family day and a DVD made by the children.
Strategies with Kids-Information for Parents (SKIP) co-ordinator Lynette Archer said a scoping project was held to decide how to use the funding, and a survey of 750 children showed the kids wanted a focus group.
Mrs Archer said children from Keith St School, Castlecliff School, Aranui School, Wanganui Intermediate, and Wanganui Girls' College were involved in the survey.
A focus group of 18 children run by Te Punanga Haumaru Whanganui gathered outside Whanganui Regional Museum on Friday to take part in team-building exercises.
"There's heaps of bullying going around," said 12-year-old Paris Skudder Daly, who said the exercises were going well.
"Everyone's getting along."
Keela-Rae Nahana, 12, was enjoying it because they were "working together as a team".
"We're trying our hardest," she said. "It's fun."
Mrs Archer said the initiative was nationwide. Those given funding could choose how to put it to use.
The children were "the ones who can make the biggest change in the community".
They would be planning different activities throughout the year, Mrs Archer said.