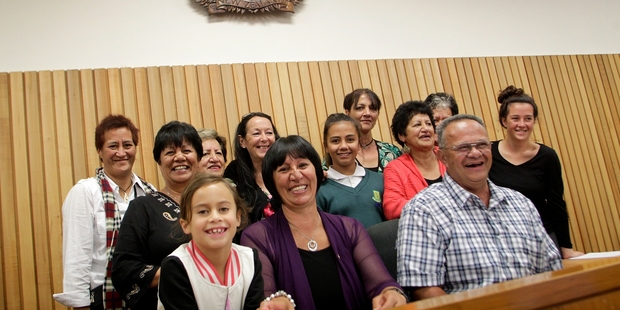 The public gallery in the Whanganui District Court was packed on Friday with Lulu (Lou) Brider's whanau and representatives from her four iwi in attendance when she was sworn in as a JP.
Judge Dugald Matheson read Mrs Brider's curriculum vitae which ticked all the boxes that counted for her being a very suitable JP.
Three community organisations - the Raetihi Community Trust, Nancy Winter Early Childhood Centre, and the Pipiriki Health Centre - as well as Maori Party co-leader Tariana Turia endorsed her application, which was then sent to the Attorney General for his approval.
Two exams and interviews with a panel of JPs were part of the comprehensive process, which took up to 18 months.
Mrs Brider said it was awesome to look out and see the representatives of her iwi, Ngati Ruru, Ngati Uenuku, Ngati Rangi and Te Atihaunui a Paparangi, in the public gallery for her swearing-in.
"They came to tautoko me," she smiled.
Mrs Brider is the business programme tutor for Te Wananga o Aotearoa, which she has taught for the past eight and a half years.
She has a full evening class starting on March 6 and is yet to see if there will be enough numbers for a second class.
From Raetihi where she still resides, Mrs Brider went to Raetihi Primary and then attended Ruapehu College.
She holds an MBA in business management from Massey University which she started when she worked as the Westpac Bank manager in Taihape.
When she left school she worked as the assistant registrar in the Raetihi Post Office where she became a marriage celebrant.
"People thought I was a JP there because I signed and certified documents."
March will be a busy month for her, with those business classes starting and weddings to officiate at.
"I have already had calls as a JP," she said.
Judge Matheson told the Friday gathering that JPs do a lot of work and it's all unpaid.
That does not faze this already busy woman who says: "It's time for me to give back to the community."