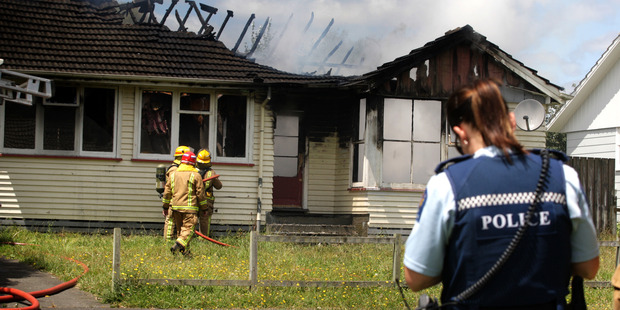 An Aramoho house that burned down yesterday had apparently been unoccupied for months, say firefighters.
The house at 172 Paterson St had no power or gas connected, senior station officer Bryce Coneybeer said. "The back door was open, so the fire appears to have been set."
Police were unavailable for comment.
Wanganui Fire Service received the call at 12.47pm and Mr Coneybeer said it took six minutes to reach the scene.
When firefighters arrived, the house was well ablaze and a neighbouring house had begun to heat up, said Mr Coneybeer. "That house was getting hot enough to catch fire. The first thing we did was protect that," he said.
Three fire engines and three police cars attended the blaze.
A nine-year-old girl who lived on the street said she thought it was fireworks until she went outside and saw smoke.
Mr Coneybeer said CIB were at the scene.
The fire comes little over a month after another Aramoho fire in Kells Ave, where a young family home was burgled before it caught fire.