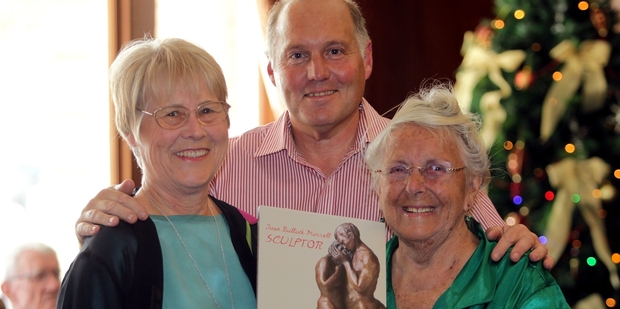 Valerie Cowan's book Joan Bullock Morrell Sculptor is an illustrated pictorial and conversational record with the renowned Wanganui sculptor which showcases her life and work.
In the book, internationally recognised bronze sculptor Joan Morrell talks about the inspiration for each of her sculptures and takes the reader through the creative process of sculpting.
At the book's launch by deputy mayor Hamish McDouall in Heritage House early Wednesday evening Mrs Cowan spoke to a large group of guests, which included friends and family.
She said she was proud of the book which brought her close to Mrs Morrell in the countless hours she spent listening to and interviewing her over the two years she worked on it.
Although Mrs Morrell explained the process of making moulds and bronzes, Mrs Cowan confessed she still had difficulty grasping the process.
Mrs Cowan thanked Wanganui author Joan Rosier-Jones for encouraging her to write the book. Wanganui photographer Leigh Mitchell-Anyon took the many pictures of Mrs Morrell's works.
Tainui at Virginia Lake, Protection in Adversity on Pakaitore/Moutoa Gardens and The Caring Column in the Heritage Room of the Davis Library, are three well-known works in Wanganui.
Mrs Morrell also sculpted Fred Flintstone and the seals in Kowhai Park.
A prolific artist, many of Mrs Morrell's works are in private galleries in Australia, England, Europe, Japan, Canada, Holland, United States and New Zealand.
At 85 Mrs Morrell continues to work at her Springvale property and Marton sculptor Ross Wilson does her bronze castings.
In 1990 Mrs Morrell received the New Zealand Commemoration Medal and in 1995 was awarded the Queen's Service Medal.
She has been commissioned by Wanganui to produce sculptures for the community and she is currently working on a commissioned James K Baxter sculpture for Wanganui's Guyton St.
Mrs Morrell has a private gallery on her property open to the public on request.