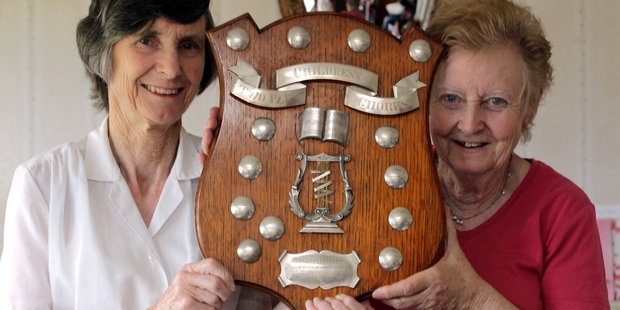 When a man turned up at a Wanganui Competitions Society concert saying he had found a lost treasure belonging to the society, president Eris Walker and treasurer Pat Williams didn't think much of it.
It was only when Iain O'Brien, a member of the Wanganui Male Choir, turned up at the society's AGM in late November bringing the treasure with him, that they realised what they were dealing with.
The treasure was a 92-year-old shield, gifted from the choir to the society, and designed to be presented to the best "children's two-part chorus".
The large shield is wooden with silver plates, and is in near-perfect condition.
Mrs Walker described the find as "magnificent".
"We're just so delighted to have this and that Iain wanted to give it back to us."
The shield dates from 1921. Mrs Walker said the society has no records back that far as they were lost through a combination of a burglary and a flood, so little is known about the shield.
However, in a book that commemorates the century of the Wanganui Male Choir, dating from 1998, a small item notes that: "[In 1920] the Male Choir initiated moves which resulted in the formation of a Wanganui Competition Society. Five guineas was donated to the new committee and on behalf of the choir, Messrs Stanly, Martin and Herd presented a handsome shield for competition between two-part choruses of children."
Mrs Williams said the society planned to reinstate the competition category at its next singing competitions in July. However, the original shield won't be handed out as a prize.
"We'll have a replica made and use that," she said.
"It's just too precious, and we would hate for it to be wrecked or damaged."
Mr O'Brien, who has been the librarian for the Wanganui Male Choir for the past 10 years, found the shield earlier this year at the Jane Winstone retirement home's chapel.
"The choir practised there, but we had to move everything out before they started earthquake strengthening. That's when we found it."
Mr O'Brien decided the shield needed to be returned to the society.
"It's great news that they've decided to reinstate the category and will be giving out a replica.
"I'm really pleased the shield is back in its rightful home," Mr O'Brien said.