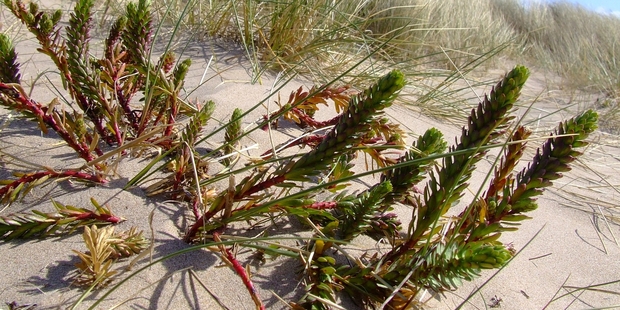 Wanganui beach-goers are being asked to keep an eye open for a toxic weed that could harm people, animals and the environment.
Euphorbia paralias, a type of European sea spurge, has been found at Aotea Harbour, Waikato, and the Department of Conservation is concerned the weed may spread.
It is believed to have reached New Zealand on sea currents from Australia, where it has caused major environmental problems in Tasmania and Victoria.
Adele Meyer, from the Department of Conservation's Wanganui office, said if the sea spurge became established in New Zealand it could have serious impacts on coastal environments.
"Sea spurge infestations have caused major environmental problems at many Australian beaches by displacing native plants and changing natural patterns of sand movement."
Ms Meyer said the plant's broken stems oozes a milky sap that is toxic to both people and animals. The plant will grow in bare sand or among existing plants, anywhere from the high-tide mark to sand dunes.
Euphorbia paralias can grow to around 1m high in dense clusters. It has multiple stems that are often reddish at the base, and its spiky, tightly-packed blue-green leaves are between 4mm and 20mm long. Green flowers bloom at the stem tips from September to May, and the flower stems die off every year.
Ms Meyer said the plant looked similar to the rare native shore spurge and to New Zealand linen flax.
"However, native shore spurge has much larger leaves that are 30-80mm long, while the stems of New Zealand linen flax are not reddish at the base."
If you find any of the plants:
Do not disturb, as this could spread the seeds.
Take a photo.
Note the location as accurately as possible [GPS coordinates are best].
Call the Ministry of Primary Industries exotic pest line on 0800 80 99 66.