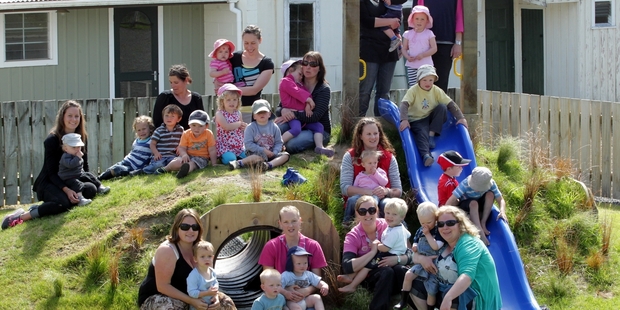 Hunterville's Playcentre has extended its playground with land gifted by livestock company CR Grace.
Yesterday, after four years of fundraising and with generous support from Hunterville businesses, the new playground was opened by committee parents Tris Weston and Jo Duncan.
Mrs Weston said they paid an annual peppercorn rental for the land.
Last year, the playcentre held a masquerade ball in the Hunterville Town Hall and raised $9000. The committee then approached Kenneth Bidlake of "Zowie" playground equipment specialist with a wish list, and he incorporated everything into the design.
Mrs Weston said playcentre parents helped build the new playground and, once again, local businesses were supportive of the new build.
Playcentre supervisor Rachel Goodwin said many regulations governed the building of playgrounds, which Mr Bidlake had to follow.
A new sandpit with a shade sail posed some challenges.
"We had to dig down deep, and then it rained. It was like a swimming pool."
Special shingle for drainage was placed into the bottom, then that was covered before it was topped with sand.
The swings were revamped and another swing was added.
The piece de resistance is the new mound, with tunnels and a slide and planted with native grasses.
Mrs Weston said fundraising was continuing to buy more equipment for the playground.
Major sponsors who donated to the playground are the Lion Foundation, SJ Weston chartered accountants, Otiwhiti Station land-based training school, HW Cavanagh Transport, the Hunterville Veterinary Club, the Hunterville Service Centre, Advance Spreaders, Hunterville Panel & Paint, McVerry Crawford Motors and Rangitikei Aggregates.
The Hunterville Playcentre holds four sessions a week for up to 30 children, on Monday, Wednesday and Friday for children 0-6 years, and Thursday morning for children 3-4 years.