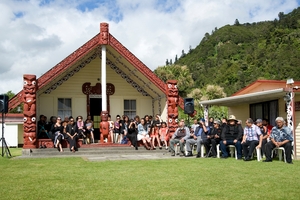 The centenary of a whare on the banks of the Whanganui was celebrated with food and song on Saturday.
The unveiling of a centennial plaque made for Maranganui Tuarua, the meeting house of Pungarehu Marae, was the centrepiece of Saturday's celebrations held by Ngati Tuera iwi.
The original whare named Maranganui was on a river flat and swept away during the 1904 flood. Afterward, Te Ratana Te Urumingi and his son-in-law, master carver Hori Pukehika, led a team of carvers to build the second whare, Maranganui Tuarua, which now stands at Pungarehu.
The wharetapu fell into disrepair and had to be restored and after this, in 1986, was re-dedicated by Governor General Sir Paul Reeves.
One of those present for Saturday's celebration, Sue Anderson, said the day was an excellent occasion for the people of Ngati Tuera to gather and celebrate themselves.
"It was just a wonderful day, although emotional.
"It was uplifting to come together and celebrate who we are and to acknowledge the descendants of our ancestor Te Urumingi and his wife, Heeni."
Ms Anderson said about 300 people descended on to the marae, including some from overseas.
She said celebrating the marae's centenary helped to cement the iwi's strength as a family and noted the involvement of children and grandchildren on the day.