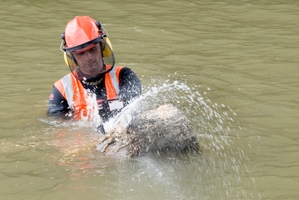 The cleanup continues after the big floods in Wanganui and this weekend the work was carried out from on the river itself.
A team from Commercial Dive Services NZ was hard at work on the Whanganui River on Saturday working to clear debris from the October floods which had clustered around the supports of the Dublin St Bridge.
Shane McDonnell, CDSNZ dive supervisor and company principal, said the company was working on behalf of the Wanganui District Council to clear the bridge.
"About two or three weeks ago a tug had a go but it was unsuccessful. We got called in because we've done it before and our underwater chainsaw really helps with the work.
"We got through the best part of 20 major logs that were about 20-25m long, and a whole lot of small stuff, but there's a little bit left so we'll go back before Christmas or early January."
Mr McDonnell said the heavy rainfall had also reduced visibility in the river, making it harder to see and work on submerged logs.
"The final cuts have to be made underwater and we attempted that, but on the bottom visibility was unsuitable which obviously makes it very dangerous.
"We made a safety call and we'll be back around the end of the year or when there's been no rainfall. We've pretty much gotten rid of all the visible topside stuff so it's just the last, underwater bits left," he said.
Commercial Dive Services NZ works all round New Zealand clearing bridges and with underwater construction.