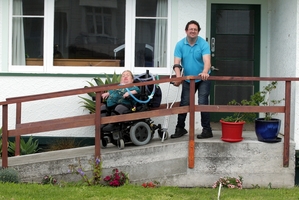 A disabled Wanganui woman is determined to fight a government proposal that would remove the requirement for buildings to include disabled access.
And she's ready to take her fight all the way to Parliament if necessary.
The proposed change to the Building Act 2004 would remove the requirement for owners who have to earthquake strengthen their buildings. It does not apply to new buildings.
Felicity Emmett, who has several disabilities including partial tetraplegia, and is in a wheelchair, said she was outraged to learn about the proposal when she read about it online.
"Of course it will affect people like me - but it's not just about people in wheelchairs.
"This will affect many elderly people, blind people - even mothers with pushchairs," Mrs Emmett said.
"We've taken five steps forward for rights for people with disabilities, but this is 10 steps backwards."
She believed the issue was particularly relevant for Wanganui as there were many buildings that needed earthquake strengthening.
She and her husband, Julian, who has cerebral palsy, have started an online petition.
"I want to have a protest outside Parliament - I want the Government to know how we feel about this."
Local lawyer Hamish McDouall has taken up Mrs Emmett's cause. He told the Wanganui Chronicle he was very concerned by the proposal.
"This is all about reducing costs for building owners. But if someone has to strengthen their building, which usually comes at a considerable cost, adding appropriate accessibility is a small cost on top of that."
Mr McDouall said the proposed change to the Building Act, which could be introduced to Parliament by the end of the year, came about as a result of the Royal Commission into the Canterbury earthquakes.
"The Government opened up the commission's report for submissions, and there was agreement among engineers, builders, and building owners that the requirement for accessibility should be dropped for the entire country, not just Canterbury."
Mr McDouall said the Minister for Building and Construction, Maurice Williamson, had taken on the submissions and supported them.
Les Gilsenan, the manager of the Whanganui Disability Resources Centre, who is himself in a wheelchair, said the proposal would be a step back for New Zealand.
"It's very disappointing, particularly as New Zealand drove the United Nations Rights for People with Disabilities policy."
He said there was no clear evidence that providing accessibility would be an excessive cost for building owners.
"For new buildings, it's an extra 1.3 per cent to add accessibility."
Section 112 of the Building Act 2004 currently states that a building consent must not be granted for alterations to a building unless the alterations allow for access for people with disabilities.
That clause would be taken out under the proposal.
It is estimated there are up to 20,000 buildings nationwide that need earthquake strengthening.
Felicity Emmett's petition can be found on her Facebook page, Disability Protest.