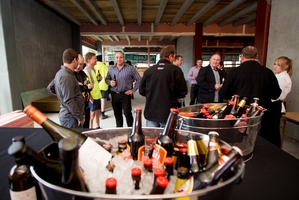 An after-work tipple with colleagues could help strengthen workplace relationships among Wanganui workers and might even be good for business, new research suggests.
However, most local employers are rewarding workers' efforts with sausage rolls and sandwiches rather than after-work Tuis, says First Union Wanganui organiser Kaye Hearfield.
"I personally don't have any sites that [provide free after-work drinks] on a regular or irregular basis. I'm picking it would be more in the corporate centres like Auckland or Wellington."
The Victoria University study examined influences on young people's drinking habits in a white-collar environment. It found laying on free alcohol bought "credit" for bosses, who were seen as being a "good mate" for buying staff drinks, with workers feeling "compelled to work harder during ordinary work time".
Ms Hearfield said most local employers she dealt with rewarded staff's hard work with morning tea shouts instead of alcohol.
"I'd be encouraging an employer to put more money in their pay packets rather than a bloody good will gesture drink."
The study's authors, master's graduate Benjamin Walker and management school senior lecturer Dr Todd Bridgman, conducted in-depth interviews with employees at an unnamed professional services organisation in Wellington.
Mr Walker was surprised to discover the extent to which alcohol featured in the workplace.
"Alcohol is commonly used to facilitate team bonding and for presenting a friendly, informal image when networking with clients. It's the way the organisation celebrates success, as well as the way new employees are inducted into the organisation."
The researchers found social events where alcohol was involved could even be a deliberate form of managerial control.
"Through positive reinforcement using events involving alcohol, [the organisation] succeeded in prompting workers to work harder", the study said.
The Employers and Manufacturers Association said Friday night drinks were common practice for many businesses.
"Having staff congregate and network outside their usual connections within an organisation can be very good for staff morale, and help with team building," spokesman Gilbert Peterson said. It helped keep people engaged in the business and contributed towards worker productivity.
The study was published in the periodical International Journal of Drug Policy.
- additional reporting Teuila Fuatai