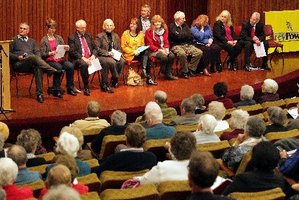 Wanganui's senior voters are concerned about debt, the wastewater treatment plant, and the retention of health services in Wanganui.
The Wanganui Chronicle spoke to a number of people who attended a Grey Power forum yesterday afternoon for candidates standing for the Wanganui District Council, Horizons Regional Council and Whanganui District Health Board [WDHB].
The forum, at the War Memorial Centre, attracted a crowd of around 150.
Mary Harrison said she came because she wanted to hear from the candidates in person.
"I'm not really worried about rates, because we'll always have them and they'll always go up. But I do feel it's very important that we retain Wanganui's health services," she said.
Her friend Norma Cronin said the big issues for her were dealing with the wastewater treatment plant and the council debt. Both women found the forum interesting and were glad they had come along.
"There are some candidates I knew nothing about, but after hearing them today, I'm quite impressed."
Other people the Chronicle spoke to said they too were concerned about the debt and the wastewater treatment plant.
A man who did not want to give his name said he attended because, "I want to see what idiots are trying to get my vote".
"The biggest issue for me is ensuring that we have sensible, responsible and thoughtful people on council, who will actually do some good for Wanganui," he said.
Another woman, who also did not give her name, said she hoped the new council would be made up of "forward-thinking people" who would make decisions "for the future".
"The younger generations will have a hard enough time as it is without having to deal with the bad decisions made today."
The forum, chaired by Grey Power Wanganui president Graham Adams, was in three parts.
The first was for candidates standing for Horizons and the WDHB, and the second and third for council candidates.
Several WDHB candidates spoke to their older audience, including Shirley McDouall and Ian Hamilton, who said health services for senior citizens needed to be strengthened. "Good care is what they deserve. Many want to stay in their own homes, but they need the right support," Mrs McDouall said.
Council candidates spoke of the need to deal with council debt, sort out the wastewater treatment plant, keep rates low, and positively raise Wanganui's profile.
Garth Scown blamed Horizons for the failure of Wanganui's wastewater treatment plant and said Horizons was "an enemy of Wanganui".