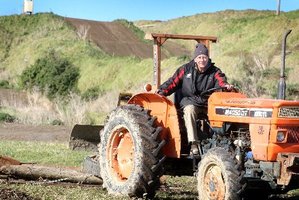 Wanganui motocross could get a new lease on life thanks to a new lease on the paddock below the track at Landguard Bluff.
Wanganui Motorcycle Club president Ross Gilligan said the large lupin-covered paddock below the club's course meant they could extend the track and hold bigger events.
"It will butt into the existing track and make it longer. This will give us the ability to apply for Motorcycling New Zealand events like the North Island champs."
He said farmer John Churton had agreed to give up the lease of the New Zealand Army land so the club could have it.
"We are very grateful to him and the army," he said.
"We'll clear the lupin and ride around on it and the guys will work out where they want to go.
"Once that's done we'll put a few berms in and a jump or two and it's done."
Mr Gilligan said once the track was finalised, probably in the New Year, the club would look at what events it would apply for. The extra land would add more than a minute to a racing lap.
Current club days attracted anywhere up to 100 riders but national events, including title events, could attract many hundreds from around the country and overseas.
"It's a very well supported sport."
The club is holding an open day at the track today , starting about 11am, where for $15 anyone with suitable safety gear and a bike could have a go.
"It gets people off the beach and river bank and lets them find out what we're all about," he said.