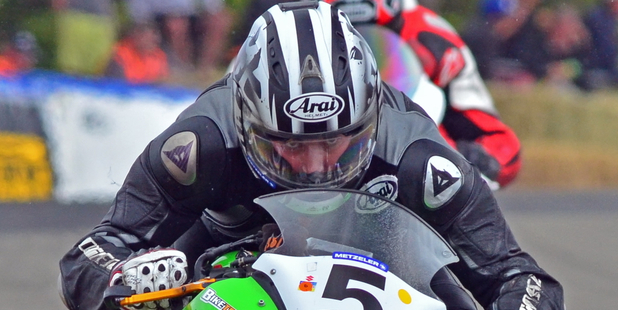 Now he has "finally cracked" the Suzuki Series on Cemetery Circuit, new Formula 1 champion Nick Cole is looking forward to chasing the national title.
The 27-year-old Waikato fitter and turner was a repeat round winner at Wanganui's popular Boxing Day races after also being best on the day in 2012, but unlike last year he was still into contention for the overall F1 series crown and did enough to overtake series leader and defending champion Dennis Charlett, snatching the title away from the Christchurch rider.
Cole said the 2011-model Kawasaki ZX10-R bike that he'd campaigned with last season never missed a beat at Wanganui on Thursday, although his concentration was put to the test.
"You really have to be smooth on streets circuits ... especially with [weather] conditions changing all the time," he said.
"The races could start dry and end damp and then there's the changes in light as you weave between the trees by the cemetery.
"I had a wee moment when the bike stepped out on me on one occasion, but you get that when you're racing superbikes," Cole laughed.
"I finally cracked it."
As well as winning the F1 series for the first time, Cole also claimed the "real bonus" of the day-ending Robert Holden feature race with New Plymouth's Hayden Fitzgerald coming in second.
The Robert Holden could not be held last year due to rain.
In total, Cole won three of the six F1 races in the series to take a large 33-point victory in the standings over runner-up Charlett, with Wellington's Sloan Frost taking third spot on the series podium, a further four points back.
Cole won the first of the two F1 races at Hampton Downs, before struggling at Manfeild the previous weekend, then dominating in Wanganui with two wins.
"This is a fantastic start to the season," he said.
"I'm looking forward to the nationals now, but I'm not taking anything for granted and I know that Hayden Fitzgerald and Craig Shirriffs [Feilding] are really flying at the moment.
"Sloan Frost and Dennis Charlett will come back strong too."
The national four-round series is due to kick off in Christchurch on January 5.
Other class winners in the 2013 Suzuki Series were Auckland's Toby Summers (F2 600cc class), Fitzgerald (F3 superlites), Whangarei's Duncan Coutts (Pre-89 Post Classics), Wanganui's Dwayne Bishop (Bears, non-Japanese bikes), Wanganui's Richard Dibben (Super Moto) and Auckland's Adam Unsworth and Stu Dawe (F1 sidecars).
Click on photo below to see more of Cemetery Circuit 2013