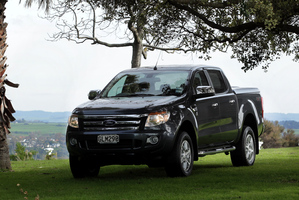 This stylish ute really does provide an all-round package of safety, comfort and practicality for all users.
You could say I'm a bit of a ute and four-wheel drive connoisseur.
I've owned (in no order of preference) Landcruisers, tonners, Kingswoods, Surfs, Hiluxs, Couriers, L200s and more.
There is something distinctly satisfying about putting your chainsaw and fuel on the back of your ute and heading out to get a load of firewood.
But it's a love/hate affair for me and one early '80s ute I had, I actually took to the scrap yard and had crushed just so I didn't have to look at it anymore rusting in my back yard.
It's got to the stage where I keep two vehicles on the go. A ute (preferably four-wheel drive) and a car. The car's for everyday towning and arounding and going on trips and the ute's for getting stuff done.
That's what's good about the Ford Ranger. It seems to me it's a four-door, four-wheel drive car that also doubles as a ute. You can town and around in it all day with three screaming kids in the back and then chuck your chainsaw on and head for the hills.
I was trying to think of who the Ranger would appeal to. It's good for the sales rep who wants to cart products around, it's good for the business owner who needs to move things now and then but also look good doing it and it's good for the tradey who needs to cart tools ... and then it's also good for the farmer who has to tow trailers and cart hay bales. It's good for the weekend farmer who needs to cross a paddock on Sunday but commute to work Monday.
The interior is not ute like at all. The seats are comfy, there's no vinyl and the surround-sound stereo and hands-free phone system rocks.
It's 3.2 litre, five cylinder turbo diesel is all business and the six speed auto adds a refined touch.
One really neat trick was the reversing camera. I became an immediate fan of this technology. When I chucked it in reverse the image behind me came up clear as a bell in one half of the rear vision mirror. It was dark when I first tried it and it lit up the driveway behind me. This is life saving technology.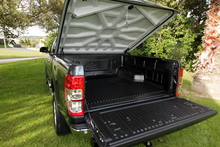 Utes are for chucking stuff on the back of as far as I'm concerned. Hard covers don't do it for me. Luckily this ute also has a tough plastic liner which protects the deck's surface from rough loads and the weather which will lengthen the life and looks of the machine.
The ride was nice and comfy. The acceleration produced a collective whoah! from the kids in the back as we took the airport hill and I had to warn them they would be getting out and walking if they didn't stop chattering so I could hear whether there was any road noise - there was next to none.
I would have liked to have put the Ranger through it's paces in my favourite mud puddle to test the four-wheel drive but I didn't fancy the thought of cleaning it afterwards.
I had a look in the handbook and its got some neat features in four-wheel drive such as electronic diff lock and another electronic gizmo that assists with braking on steep hill descents. With driver, passenger and side airbags, child safety seat brackets in the back, and anti-lock brakes, this ute really does provide an all-round package of safety, comfort and practicality.