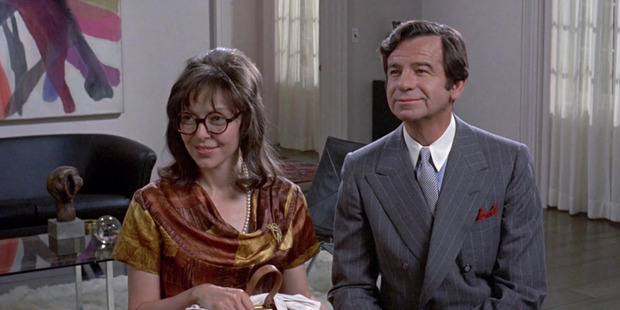 A New Leaf
Monday, March 13, 7pm
Davis Theatre, Whanganui Regional Museum
Comedian Elaine May made her directing debut with this delightfully unorthodox Hollywood comedy starring Walter Matthau as a cash-strapped playboy with murder on his mind.
"Elaine May's frenzied 1971 comedy, in which she co-stars with Walter Matthau, reveals the essence of marital love more brutally than many confrontational melodramas. The film opens with a loopy view of a rich man's caprices, notably the red Ferrari of Henry Graham (Matthau), an effete and idle Manhattan heir. But he's stopped cold by the news - delivered in riotous euphemisms by his lawyer (William Redfield) - that he's run out of money. After a terrifying vision of buying ready-to-wear, he accepts a usurious loan from his contemptuous uncle (James Coco) and has to marry rich, fast. Henry impresses his chosen prey, Henrietta Lowell (May), an awkward, desperately lonely heiress as well as a botanist, with his bravura displays of chivalry. In anticipation of the big day, he, too, takes up the study of botany - and, most unchivalrously, the study of toxicology. Having started out with the hatred, dependency and surrender it takes most couples years to achieve, Henry and Henrietta are no less suited than regular folks for love until death do them part - one way or another.
Richard Brody (The New Yorker)
A New Leaf is one of three films by pioneering women directors the NZ Film Society is profiling this year in The Debutantes collection.
Along with Elaine May's debut are Kelly Reichardt's first feature River of Grass, and the breakthrough film from actress-turned-director Ida Lupino, The Hitch-Hiker.
For more info and membership details see: www.whanganuifilmsociety.org.nz